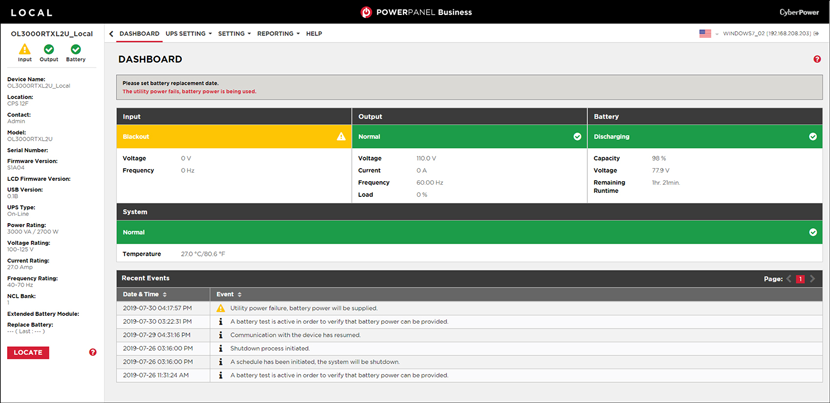 CyberPower has released an update to PowerPanel Business. Please read on for feature improvement details and a quick link to download the update.
PowerPanel® Business v4.4 Release Notes
New Features
Option to import configuration files from PowerPanel Business Edition v3.x to PowerPanel Business v4.4
Added control for single outlets on managed PDUs, including stop, start, and reboot of PDU outlets in the Management module
Includes the option, in settings, to select a specific network interface card (IP address), when multiple cards are installed in the same computer or server
Feature Improvements
Support for additional Linux options
Enhancement to the Remote module to view more device (UPS and managed PDUs) information
Updated support for communication with Online UPS models
Additional languages are now available: Czech, Spanish, Croatian
Note: previous release of PowerPanel® Business was v4.3
Questions? 
Contact Tech Support Monday through Friday from 7am– 6pm CST.
Details and download links for specific operating systems available here: https://www.cyberpowersystems.com/products/software/power-panel-business/
Install Details
PowerPanel Business for Linux 32bit

File Name: ppb440-linux-x86.sh
MD5: 13641E375C5FADCCA4DB4E87D4747924
PowerPanel Business Management for Linux 32bit

File Name: ppb440_mgt-linux-x86.sh
MD5: EAEE97893F1C4633AB5C8D85B7451A76
PowerPanel Business for Linux 64bit

File Name: ppb440-linux-x86_x64.sh
MD5: A6E500B8670D9844C1CD4F405569411D
PowerPanel Business Management for Linux 64bit

File Name: ppb440_mgt-linux-x86_x64.sh
MD5: 194CB2F55F8035F704179305AFB28436
PowerPanel Business for Windows

File Name: ppb440-setup.exe
MD5: 47E044A47955FFC376260AE9D509077E
PowerPanel Business Management for Windows

File Name: ppb440_mgt-setup.exe
MD5: F8AD6261E1690306D637BC3BAE65628B
PowerPanel Business Local for Virtual Machines

File Name: ppb440-local.zip
MD5: BB308E85EEAEFF1D22602E23142DE470
PowerPanel Business Remote for Virtual Machine

File Name: ppb440-remote.zip
MD5: A269B93701172DF1DC75CFC28947BB70
PowerPanel Business for MAC

File Name: ppb440-setup.dmg
MD5: B687CD8205541F2139093FC715CC0796
PowerPanel Business Management for MAC

File Name: ppb440_mgt-setup.dmg
MD5: 81E50E8C6FBA45D2EFB7FB039644D33C