CyberPower introduces a new feature: Customer Spotlight. Just like our resellers are big fans of us, we're big fans of them. Customer Spotlight is a regular post to feature the awesome people we work with every day.
Melissa Servatdjoo is a reseller for CyberPower and our first Customer Spotlight feature! Melissa works for Coast to Coast Computer Products in Simi Valley, CA, and has been a CyberPower VAR since 2016.
Her career path began when she was 17 and moved from her home town of Truckee, CA, to Rancho Cucamonga, CA, where she says through a laugh, "I literally worked as a Budweiser Girl at a baseball stadium in Rancho Cucamonga!" Soon after, she had a failed attempt at a telemarketing job and then decided to travel the country. "I made it to Phoenix for 6 months and then came right back to California," she says laughing at herself again.
By 1998, she began working at Coast to Coast Computer Products and will celebrate her 20th work anniversary this August. As she recalls, a friend had to persuade her for six months to quit her salaried sales job and work for Coast to Coast on commission. She said it was a tough decision, but when she finally made the switch, she grew quickly into the position. "I decided while I was here that I could go back to college, which I did, and I ended up with two different degrees, one in business management and one in marketing."
Through the years, she worked her way to Vice-President of Coast to Coast. After a year or two, "I demoted myself…Many people don't usually demote themselves." She wanted to see what upper management was like, but she missed working with customers.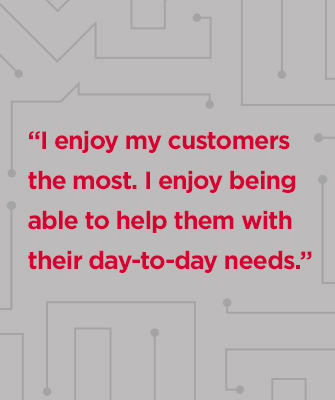 She loves her current role because "I enjoy my customers the most. I enjoy being able to help them with their day-to-day needs. I enjoy working with my customers and upgrading their systems with CyberPower products."
Melissa enjoys working with CyberPower because of the customer service she receives: "For me, working with CyberPower is about the customer service because even if my account manager is not there, I am always able to reach someone to help… I just shoot CyberPower an email, and someone calls me. Craig Shaw has been on many calls with me to create creative solutions."
A self-proclaimed nerd, she loves to geocache, she explains: "It is a game based on GPS coordinates where you find something that someone has hidden. It could just be where you write your name down or someone could have placed tchotchkes there and you'll trade out tchotchkes." She's attracted to geocaching because "If I'm going walking or hiking, it just makes it more engaging and more fun to find a secret, little hidden location."
Like her geocached destinations, Melissa and her husband wanted a hidden location for the next stages of their lives, so they have just finished building a house in Belize. She says once her husband is able to finish his caretaking job, "We want to move there." After putting up a satellite, she wants to "work from there, still doing this job I love."
Like most of us, Melissa downplays her amazing achievements. "I am a real worrywart. I never feel like I have accomplished everything. I do the best I can. So, you know when I see someone do what I do, and they do it better; I'm like why? Why are you doing it that well? What's wrong with me? I'm not super competitive, but I just feel like when I do something, I should be the best. So, I'm really hard on myself."
When asked about what she is most proud of, she hesitated and then began to talk about how she creates jewelry and fashion in the Steampunk style. She even has a few pieces featured in magazines.
In addition, she is proud that she went back to college and finished her degrees. "It was tough. Really tough," she said. "I mean working full time and going to school full time." She was able to test out of a few classes and earn her two degrees within a three-year time period because "I pushed and pushed, and that feels like a good accomplishment."
If you would like to become a featured CyberPower reseller like Melissa, contact our sales team today!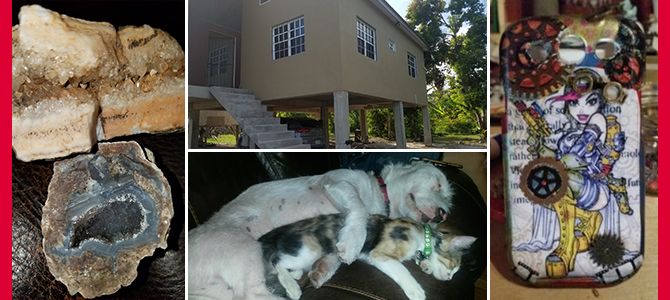 Images left to right, top to bottom: geode rock collection, home in Belize, Ralphie (dog) and Kalico (cat), steampunk art.