POWER YOUR
BUSINESS
Become part of the Channel Partner Alliance:
Exclusive discounts

Qualified Leads

Rewards Programs
Learn More
POWERING
HEALTHCARE PROTECTING PATIENT CARE TECHNOLOGY
Reliable power is a crucial element of patient care. CyberPower medical-grade devices are for use in healthcare facilities, general patient care spaces or critical patient care spaces, including patient care vicinities equipped with patient equipment grounding points.
GET READY FOR THE FUTURE OF HEALTHCARE
By 2020, 95% of all health systems will be working exclusively with electronic medical records and diagnostic tools.
~Report The Digital Universe Driving Data Growth in Healthcare
MEDICAL-GRADE
COMPLIANCE
Patient safety is your number one priority. Rest assured we've made sure our line of hospital UPS systems are fully tested for 60601-1 UL patient-safety standards and regulations. Our medical-grade Surge Protector and Power Strip are UL2930 listed, designed for use with medical equipment meeting UL60601-1 requirements necessary for use in patient-care environments.

Typical patient-care applications include:
Medical devices
Diagnostic imaging scanners
Healthcare IT equipment
Clinical lab equipment
Nurse call station
Non life-support patient vicinity systems
Networking devices
Office equipment
DESIGNED WITH
HEALTHCARE IN MIND
Practical design and safety features allow these UPS systems to seamlessly integrate into dynamic patient-care environments.
MEDICAL-GRADE UPS SELECTOR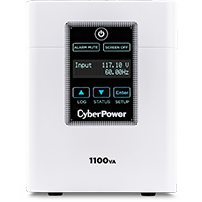 UL 60601-1 TESTED
Tested for use within patient care vicinities.
ISOLATION TRANSFORMER
Minimizes current leakage to protect patients and staff from life-threatening shocks.
HOSPITAL-GRADE OUTLETS AND PLUG
Keep equipment securely connected.
TIP-RESISTANT MINI-TOWER DESIGN
For high-traffic patient areas.
FREE POWER EVALUATION
Allow one of our CyberPower product experts to help you find a custom power solution for your IT infrastructure and environment.
Get started