MORE POWER.
LESS SPACE.
The First-Ever 5-6KVA Online UPS with 2U Design
The CyberPower Smart App UPS Online high-density design offers more power in less space allowing more room to grow. It features double-conversion topology for seamless power protection and a user-friendly, full color matrix LCD control panel that is simple to set up and easy to use.
WATCH VIDEO
SPACE-SAVING INNOVATION High-Density UPS Design
From corporate servers to network environments this space-saving device keeps your business running smoothly. Compact components and circuitry; 3U/4U power in 2U server rack space. Maximum efficiency and capacity output with a Power Factor rating (PF) of 1.
USER-FRIENDLY LCD SCREEN Fully Adjustable, Color Coded Display

For monitoring, this UPS offers a new state of the art, full color matrix LCD control panel that is simple to set up and easy to use. The color-coded alerts provide clear status of the UPS and the screen orientation rotates automatically when placed into a tower configuration.
AUTO-ROTATE
Rackmount or Tower
The LCD auto-rotates without manually changing the screen orientation.
SCREEN TILT
5 Adjustable Positions
Set the screen at the most viewable angle.
GREEN LIGHT
Working Properly
UPS is operating in Line Mode (online).
YELLOW
Battery Mode
The UPS is using battery power to work and protect the equipment.
RED WARNINGS
Output Overload
Your equipment requires more power.
FUNCTION SELECT
Main Menu
Options include: UPS Status, Controls, Setup, Event Logs, About
Double Conversion
Near perfect double-conversion power safeguards mission-critical servers, applications, and network equipment.
Toolless Front Panel
Enables easier battery replacement. The faceplate features side latches for simple removal to access the battery cover door having only one screw.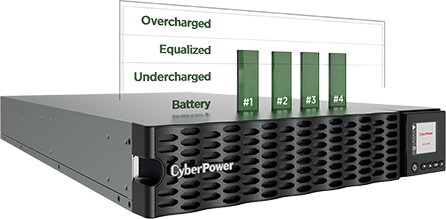 Battery Equalization Technology
Battery Equalization is an advanced charging process that maintains the voltages of the batteries at the same level to increase battery life.
QUICK REFERENCE GUIDE
Details about the new High-density Smart App Online series UPS systems available in a print-friendly format.