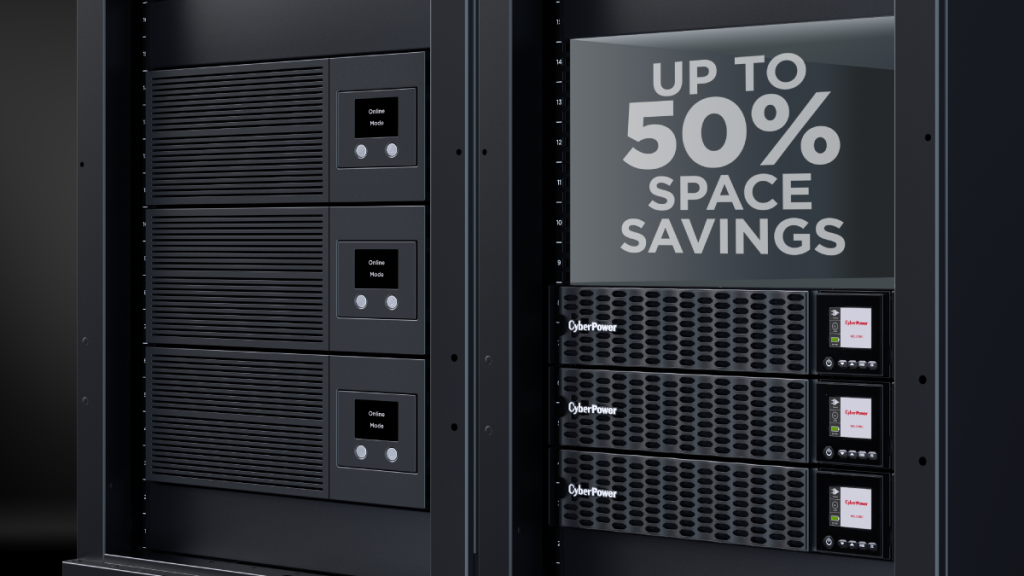 Get more power in less rack space.
IT managers understand the importance of power protection and how today's IT environments demand greater flexibility and efficiency. The challenge is to provide more power and functionality in less space. One answer is high-density uninterruptible power supply (UPS) systems.
Is high-density power protection right for you? We'll explain the common applications for online double-conversion UPS systems, compare standard-density units to high-density units, and discuss the benefits of high-density power protection.
Online Double-Conversion UPS Systems:
Mission-Critical Power Protection
Designed for high-end system components, corporate servers, lab equipment, and other sensitive electronic devices, the double-conversion online UPS system is the only type of battery backup with a zero-transfer time, so the delivery of power is not interrupted when an outage occurs. These units provide near perfect power with sine wave output to safeguard mission-critical equipment requiring seamless power correction.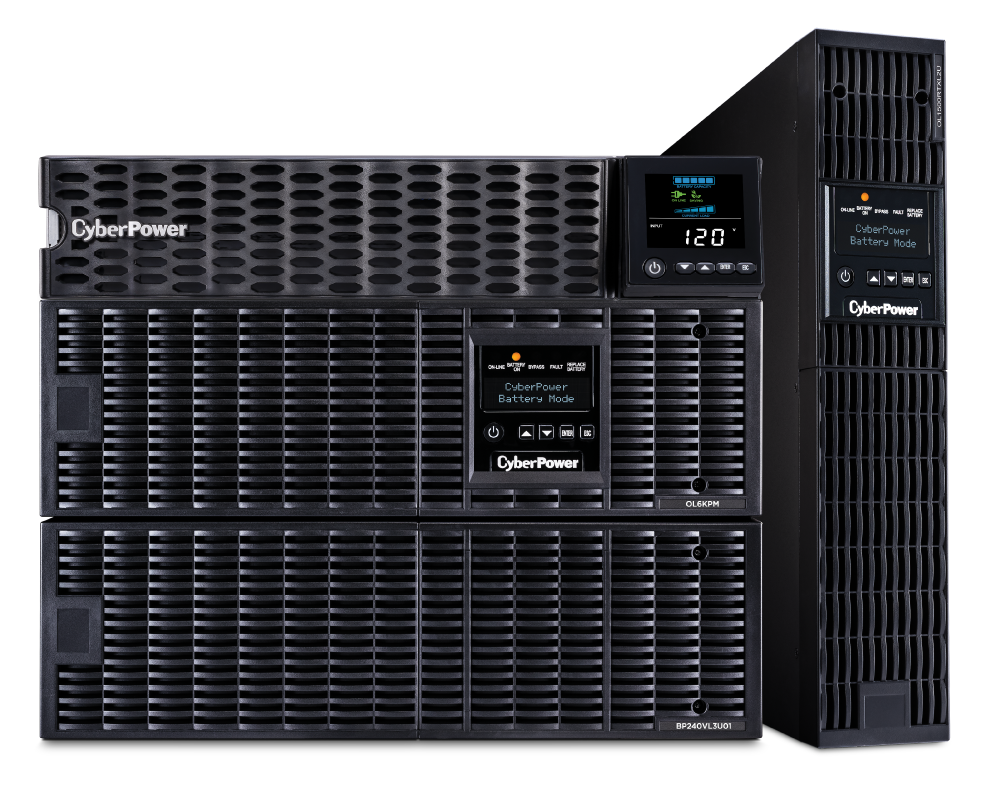 Some typical applications for double conversion online UPS Systems include:
Networking closet/Server Rooms
Data centers
Hyperconverged infrastructure (HCI)
Storage systems
Edge closets
VoIP installations
Double-conversion online UPS Systems all deliver optimal power quality and advanced power protection features:
Double-Conversion Topology
Provides consistent, clean, and nearly perfect power, regardless of the condition of the incoming power. Never a need to switch to battery as DC power operates 100% of the time.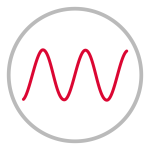 Sine Wave Output
Keeps sensitive equipment with Active PFC protected by preventing unnecessary shutdowns caused by gaps from simulated sine waves.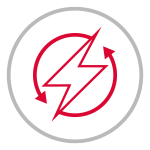 Generator Compatible
For extended power outages, double-conversion online UPS systems are compatible with generators, which ensures sine wave output power delivery without switching to battery mode.
Fast Charge Technology
Charges UPS systems with extended battery modules up to 90% battery capacity in only 4 hours.
Remote Monitoring and Management
Monitor and manage power for up to 50 clients via a standard web browser, command line interface (CLI), or network management system (NMS) connection.
Additionally, CyberPower double-conversion online UPS systems allow users to connect up to ten Extended Battery Modules for additional capacity and Fast Charge Technology to charge the UPS system up to 90% capacity in just 4 hours. Plus, batteries are hot-swappable and can be removed quickly and easily via the toolless front panel with side latch, ensuring no downtime.
To monitor the status of your power locally, CyberPower double-conversion online UPS systems offer a user-friendly full color matrix LCD control panel. Or, if you are seeking to manage the UPS remotely, free CyberPower PowerPanel® software allows you remote monitoring and control.
High-Density Online UPS Systems: More Power. Less Space.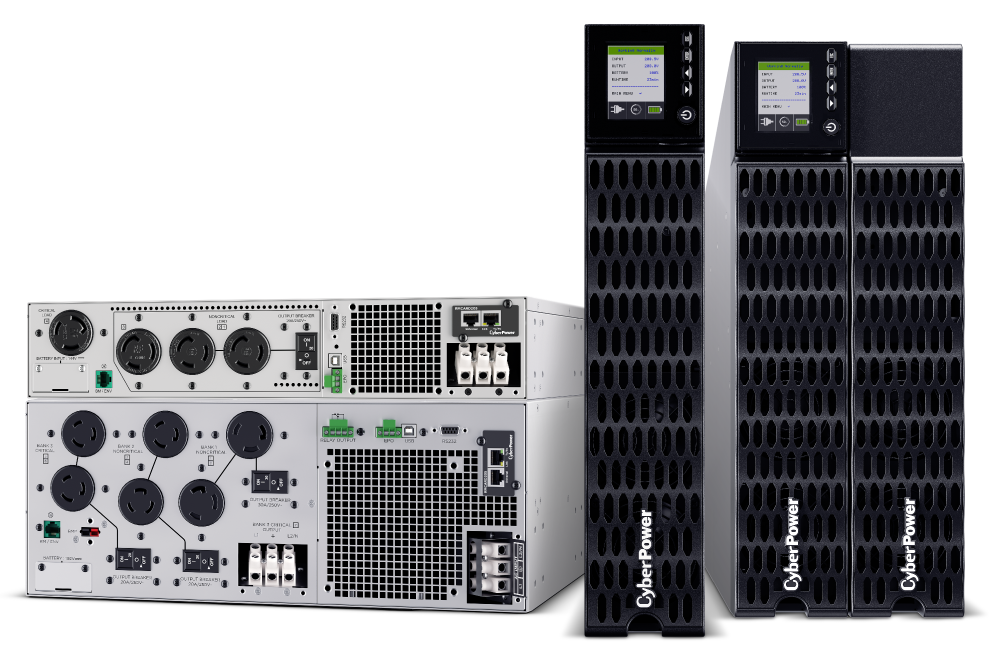 CyberPower online high-density UPS systems offer all the features and benefits of standard-density units, but occupy up to 50% less rack space, giving you flexibility and more room to grow your IT capabilities. CyberPower offers high-density online double-conversion UPS systems from 5K to 10K capacity.
Standard-density vs High-density: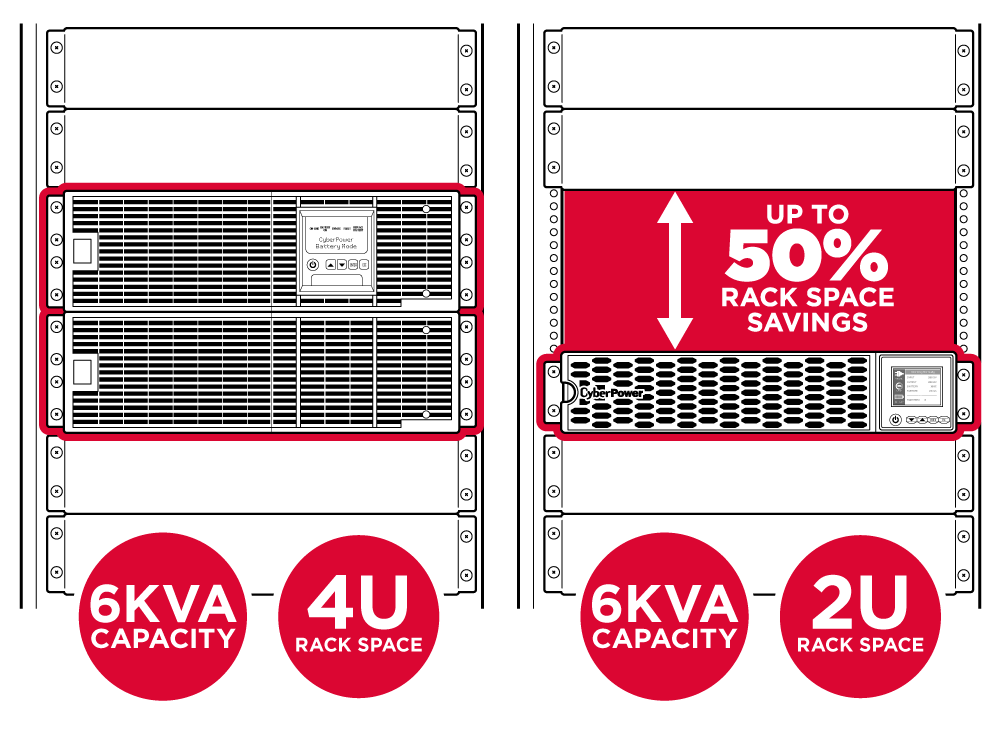 Maximize your rack space and give your IT setup room to grow with high-density power protection from CyberPower.
When you need a UPS system or have a question about the operation of your UPS system, CyberPower is your ultimate ally in power and provides solutions to all your power protection needs. Our website has tools and resources to help you choose the right UPS for your home or business.
Power Primer/What type of UPS system you need
UPS system selector
Battery Replacement