WHEN LIFE CALLS FOR BACKUP
GET PROTECTED
STAY CONNECTED
BE UNCONTESTED
with the GX1500U
The GX1500U Sine Wave Battery Backup delivers utility-grade sine wave power – the highest level of power quality – to protect your high-end computers, TVs, home theater equipment, gaming systems and network devices from harmful power interruptions and power surges.
At Work
At Home
At Play
At Work
At Home
At Play
STAY IN THE GAME
GX1500U Sine Wave Battery Backup
Many new, energy efficient (ENERGY STAR®) computers and high performance electronics come with active Power Factor Correction (PFC) power supplies. These power supplies can be sensitive to power quality and may only be compatible with a battery backup that delivers sine wave power output during a power interruption. The GX1500U Sine Wave Battery Backup ensures your critical electronics and equipment keep running smoothly during power interruptions.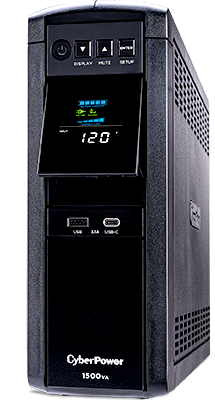 BEST IN
CLASS FOR:
ENERGY STAR® rated computers
Computer gaming systems
Computer workstations
Home entertainment centers
Media center equipment
Modems and routes
SINE WAVE BATTERY BACKUP
Protect all your computers, workstations, networking hardware, gaming consoles, and home theater components with the GX1500U.
LEARN MORE