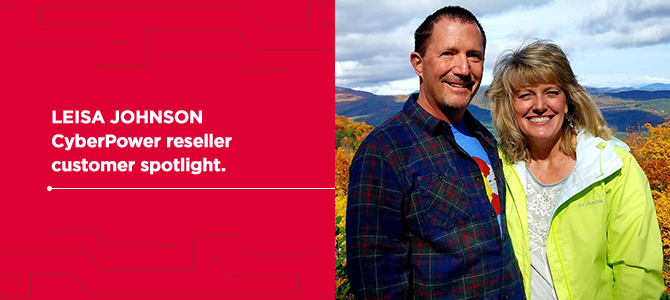 CyberPower continues its Customer Spotlight feature with Leisa Johnson. She is a reseller for CyberPower, and works for RAM Computer Supply in Denver, CO. She has been a CyberPower VAR since August 2017.
Leisa's story is one of courage and faith and begins when she answered a small advertisement in a newspaper for telesales. "It was just a very, very small ad in the newspaper…and the president and founder of RAM came down to interview me…It was a great opportunity, and here I am in my 25th year!"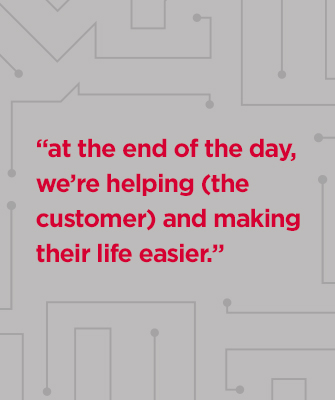 Currently, she is a 30 percent shareholder in the company and still has a vote on the board because she is involved with the company on a day-to-day basis. When asked what she loves about her job, she began by explaining her love for the growing, changing technology and that every day is different. As she continued, her desire to truly connect and help her customers takes over: "I know about their families; they know about mine. I know what their interests are, and I'm involved with them on a personal level, too. But at the end of the day, we're helping them and making their life easier."
The strong relationship with her customers is one of the reasons why she sells CyberPower products, "CyberPower is much more economical than its competitors. Plus, CyberPower is willing to help and do what they can to make a deal happen and to get a customer for life." CyberPower is able to make her customers' lives easier through our service and economical pricing.
But, this is only half the story. RAM Computer Supply began in the Denver area in 1991, and before 2005, it was a $150 million Canadian-based reseller that had multiple locations in Canada and the US. In 2005, the president, who originally interviewed her, passed away. By 2007, every location had closed or was forced to close due to bankruptcy. Leisa says "Except our Denver office. We had been cut off completely separate and apart in many ways from the larger company, so our accounts were separate, safe and were not involved in the bankruptcy."
Leisa continues: "it was then when the president's brother came to me and said if the company is going to survive. It's up to you.' I looked around at my two coworkers and said do we want to try this? What do we have to lose?'" After successfully keeping RAM afloat for 13 years, she nonchalantly says, "I mean we just gave it our best shot, and I didn't want any regrets."
One of the moments that she is most proud of came after she decided to take a risk and keep the company going. "Each December around the holidays, we do a customized box of chocolates and hand deliver the chocolates to our customers. It's the one time a year to talk to people, you know, and just say thank you and give a hug. When we saw the customers that December, not even one knew that anything had happened because there was no delay or glitch in receiving their products. We're very proud of that."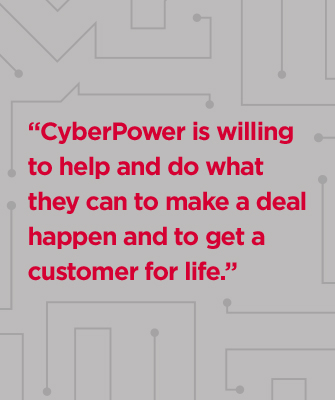 Originally from the Knoxville, Tennessee area, she graduated from the University of Tennessee at Knoxville. She worked with GE until she followed her first husband out to Denver. Her retired mother still lives in Tennessee on 89 acres of Appalachian Trail property that has been in her family for generations. "It's very wooded and very rural. You're a good half hour pretty much from any grocery store. The original homestead is still there. We've always talked about retiring there and taking over the property." Leisa says as her voice wavers off like we all do when we talk about retirement.
Her goal before retirement is to travel as much as she can. She has two sons 20 and 22, "who are doing their own thing." Because of the kids in school, her family has only been able to travel within the US and Mexico. She laughs as she says, "My passport is getting redone as we speak."
In March, she and her second husband did a vow renewal in Maui to celebrate their 15th anniversary, and she decided to take his last name. Once the passport arrives, they would like to "do more international travel. Austria, Spain, and Italy. I also want to do one of those river cruises, too."
Currently, RAM Computer Supply is a nimble 4-person company who "carries all the CyberPower products we can get our hands on. Whatever the customer needs, we provide it for them."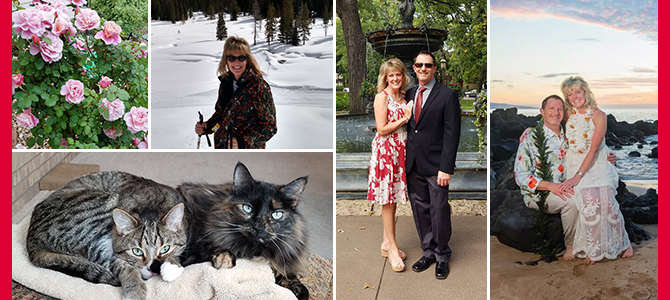 Connect with Ram Computer Supply Online
Follow Ram Computer Supply on LinkedIn

Follow Ram Computer Supply on Twitter

Follow Ram Computer on Facebook