Reliable Healthcare Starts with a Complete Power Protection Plan
Due to the Covid-19 pandemic, there is a growing demand for medical care at all levels: from virtual healthcare video conferencing services to emergency rooms to hospitals. Now more than ever, healthcare facilities must be able to rely on their equipment to monitor patient status and deliver medications and nutrients. And this equipment requires medical-grade backup power supplies and medical-grade surge protectors.
Power events, such as lightning strikes and utility power spikes, can occur at any time and despite their importance, medical facilities are not immune from them. Hospitals and clinics need to be prepared for times of high patient demand, and hence, all equipment supporting patient health should be protected against power events. The plan for your medical facility should include medical-grade surge protectors and medical-grade UPS (Uninterruptable Power Supply) systems.
Medical-Grade Surge Protectors and Power Strips vs Standard Power Protection
Medical-grade surge protectors divert excess voltage away from sensitive medical equipment during a power surge or spike to prevent damage to connected equipment. Compared to non-medical grade models, medical-grade surge protectors offer these features designed specifically for healthcare environments:
Medical-grade outlets and plugs for increased strength and durability
Individually covered outlets provide added safety when not in use
Switchless (no power button) to prevent accidental turn off
Grounding terminal to reduce the risk of electric shock to the patient
Fireproof Metal Oxide Varistor (MOV) Technology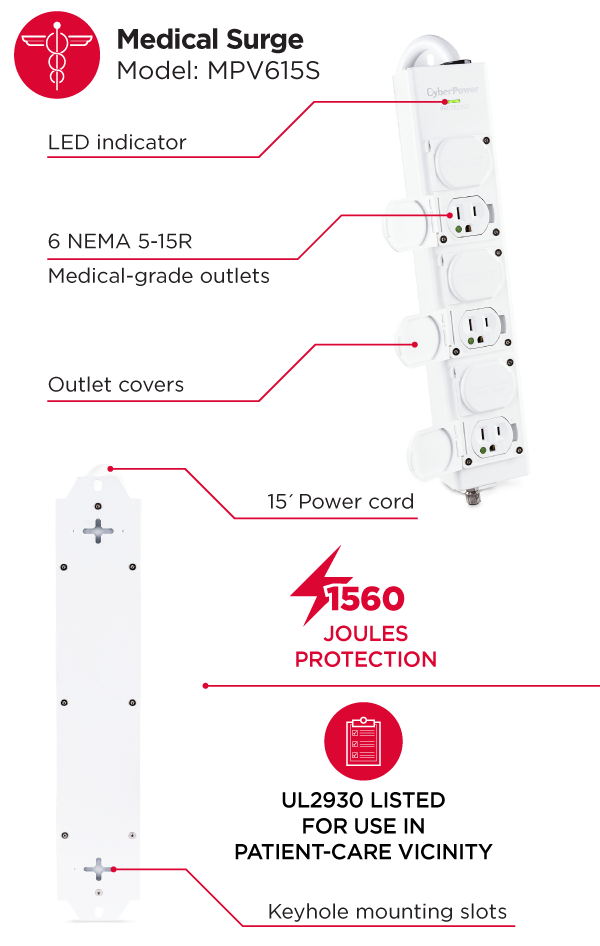 Uninterrupted Healthcare
While surge protectors and power strips ensure consistent and safe delivery of electricity, UPS systems provide backup power when utility power fails along with surge protection so connected equipment will keep working. Medical-grade UPS systems are specifically designed to support non-critical medical devices in patient care vicinities with power protection and battery backup during blackouts, allowing connected equipment to continue operating without interruption. Even with backup generators, a UPS system is needed to bridge the gap of time required for generators to get up and running.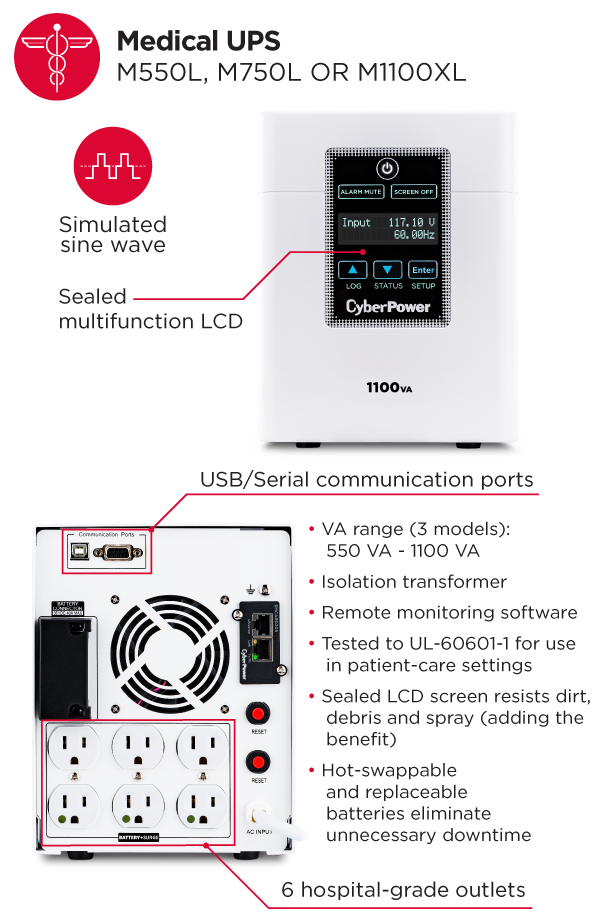 Medical-grade UPS systems may be used in both patient and non-patient settings and are ideal for diagnostic imaging, medical devices, nurses' stations, and lab equipment. They provide essential backup power for:
Patient rooms, labs, and administrative computer systems important to patient health.
All medical administrative functions: scheduling, billing/insurance coverage, patient data, etc.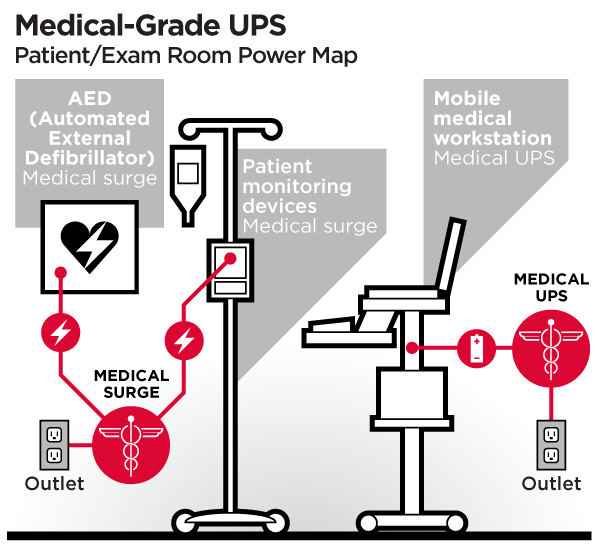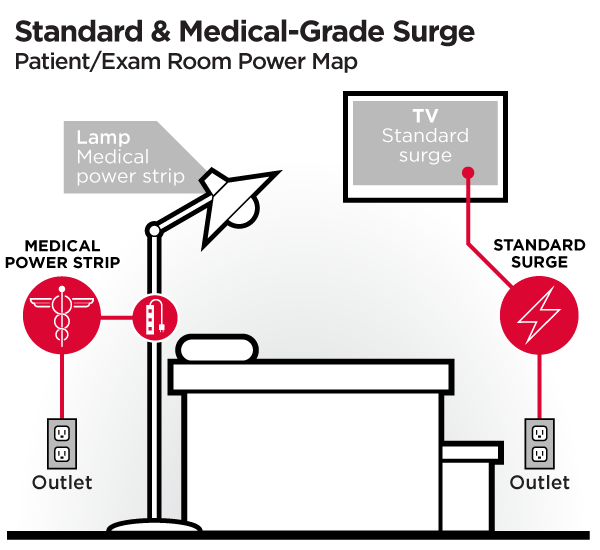 UPS systems are also important in non-patient settings for administrative functions, backing up office computers and networks by providing a bridge of power until utility power is restored. Additionally, with the increased popularity of virtual exams conducted via video conferencing, maintaining continuous power and connectivity is even more important. Without battery backup, patient and other data could be lost during a power event. In the case of a longer power outage, a UPS system will allow for a graceful system shutdown to prevent damage or data loss.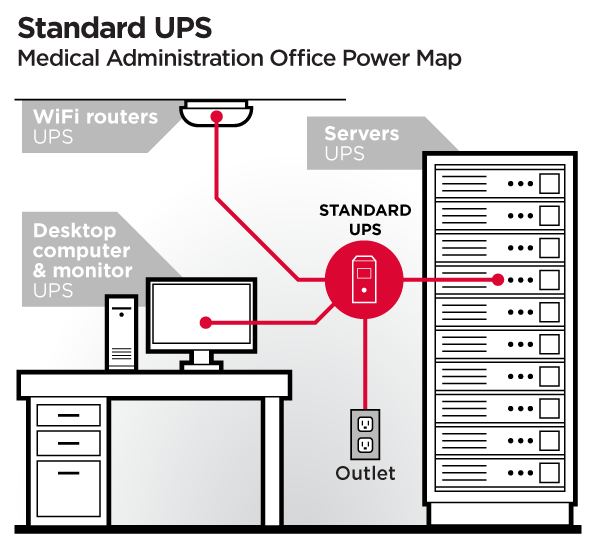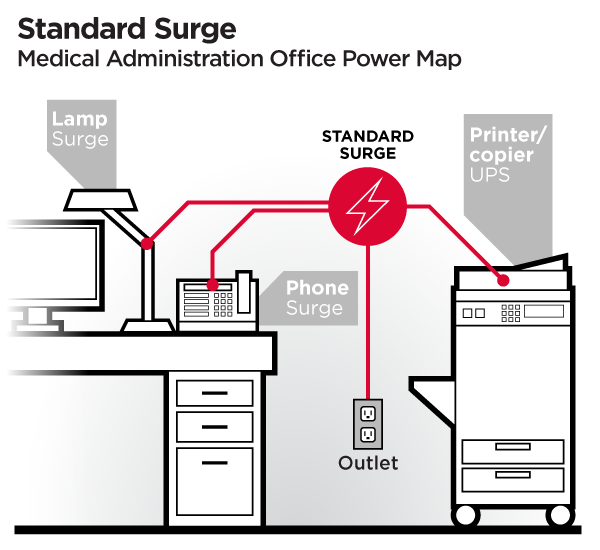 Tested to be Trusted
All electronic devices must be certified with a UL rating. UL stands for Underwriter Laboratories, an independent testing company that certifies products for safety and performance. While typical power outlets and plugs comply with UL safety standards, medical-grade outlets and plugs require additional UL requirements necessary for use within patient care vicinities. To verify that your equipment complies, look for the UL rating on the product.
Healthcare Merits Medical-Grade Power Protection
Continuous power and connectivity are crucial elements of health care, both for patient care and administrative operations. Whether it's on a video conference, inside the exam room, or at the nurses' station, you can rely on CyberPower medical-grade, UL listed power protection devices for consistent end-to-end power and safety.
Learn more at cyberpowersystems.com