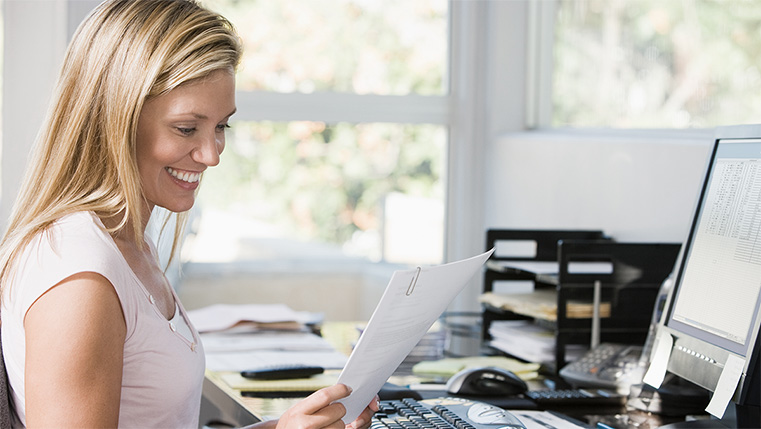 PROTECT YOUR TECH
Battery Backup and Surge Protection for Your Home Office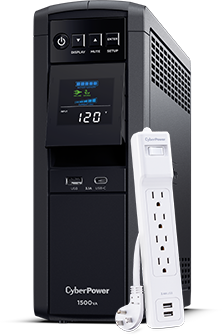 Long before COVID-19, more and more people were working from a home office or remote workspace. Working remotely has its benefits: a flexible schedule, work from your home or any location with a Wi-fi signal, and more time to spend with family and friends. These benefits aren't limited to employees; companies benefit too. The flexible working arrangements may translate to improved morale and increased employee retention. And, this trend is on the rise. In just the past five years, there has been "44.1%" growth in remote work and nearly "60.2%" of workers want more work-at-home options in the future according to an April 2020 poll conducted by Gallup.
In today's environment, when employees are required to work from a home office, maintaining a connected, productive, and protected virtual workforce is possible with the right tools in place. Uninterrupted power is a crucial element of keeping businesses operational and should not be overlooked.
NEW REALITIES ARE HITTING HOME
Now that working from home is a possibility, if not mandatory, how can you set yourself up for success? Once you tackle the basic needs of a home office or remote workspace: a place to work, desk, computer, and office supplies, your focus should shift to technology. How can you stay connected, powered, and protected while working remotely?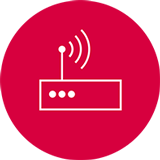 STAY CONNECTED
Establish a secure web connection with your internet provider, modem and router.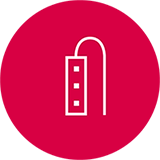 STAY POWERED
Ensure you have enough outlets to handle the capacity of your power needs.
STAY PROTECTED
Safeguard your data and devices with a surge protector or a battery backup.
TWO APPROACHES TO A POWER PROTECTION PLAN
Essential or Advanced
Most modern workplaces have power protection systems hard-wired in place, so many of us take power protection for granted. But in a home office or a remote location, protecting your devices falls into two camps:
ESSENTIAL
Surge Protection – Divert a Disaster
The most basic level of power protection is a surge protector. Surge Protection prevents an overflow of power from damaging or destroying your electronic equipment. By redirecting power, a surge protector reduces over-voltage risk, especially helpful for surges and brownouts where voltage can fluctuate without warning.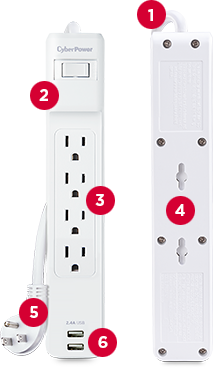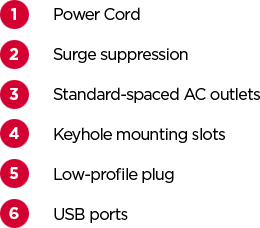 It's important to understand that after a complete blackout, there can be an initial surge of extra voltage as the power is re-established. Look for a surge protector with an indicator light that tells users that a surge protector is still providing critical protection against damaging spikes and surges.
A surge protector is recommended for use with these items: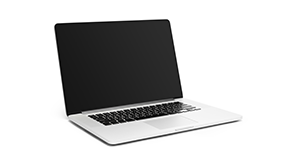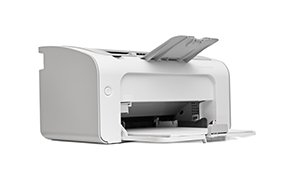 For a deeper understanding of surge protection, explore this Power Primer Guide on Choosing a Surge Protector.
ADVANCED
Battery Backup or UPS System – A Bridge of Power
A more sophisticated form of power protection is a battery backup, or UPS system, which may be used to protect electronics in your home office, such as a desktop computer or networking device. In addition to surge protection, a UPS system offers a bridge of power until utility power is restored. Furthermore, if you plug your modem and/or router, a UPS system can provide extended internet connectivity until power returns. This bridge of power offers you valuable time to stay online, save data, and safely shutdown your devices during longer outages.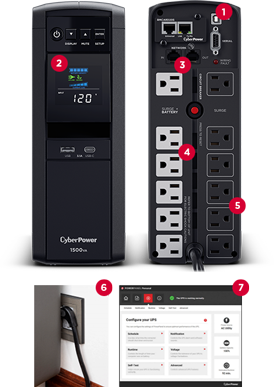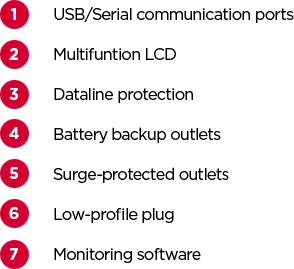 To learn more about how a battery backup for your home office works, visit here.
A UPS system is recommended for use with these items: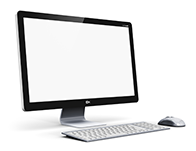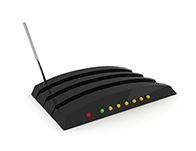 The key factors to choosing a battery backup that fits your home office needs are:
What type of devices do you want to protect?
How many devices you need to protect?
What is the capacity, or total wattage, of the devices?
What type of connection ports do you need?
How much runtime do you need?
Other factors such as alerts, monitoring software, and form factor may also be considered. For a complete power primer on how to choose the right UPS for your needs visit here.
Setting up a battery backup for your home office can sound complex, but it's actually very simple. Instead of plugging in your devices directly into a wall outlet, connect them to the UPS system and then plug the UPS system into a wall outlet.
How to connect your home office network to your battery backup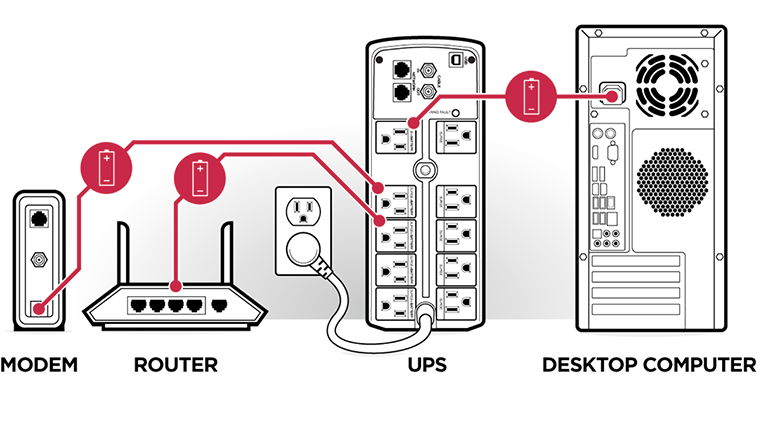 HOW TO CREATE A POWER PROTECTION PLAN
Now that we understand the ways to protect your data and devices, let's create a power protection plan featuring surge protection and battery backup devices for your home office. Below is a power map of a typical home office and the devices that need protection from damaging spikes and surges:
Home Office Power Map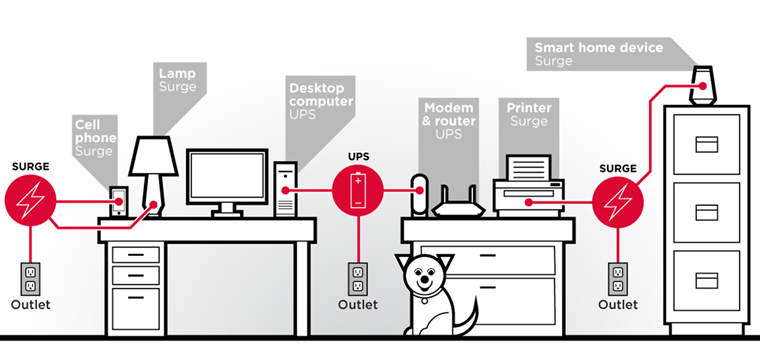 To make your own power protection plan, follow these steps:
STEP 1:
Take an inventory of your home office equipment
Don't skimp on what's required. Beyond your computer, monitors, printer, router, and modem, you may need a secure way to charge your phone, tablet, or smart devices to be ready for anything. Next, determine if the equipment is going to need surge protection only or battery backup as well.
STEP 2:
Understand your power/wattage requirements
Identify the wattage required by each of your components. Add these up to determine your load. Your load should represent a maximum of 80% of the wattage of the UPS you choose. To help you calculate your wattage, visit the power assessment tool on CyberPowerSystems.com.
STEP 3:
Activate your plan
Now that you know what you'll need for surge protection and battery backup power protection tools for your home office, here are four practical product solutions: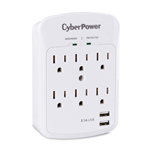 Wall Tap Surge Protector
A low-profile solution for tight locations. Great for charging mobile devices and powering stationary electronics.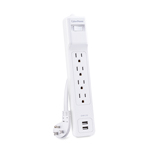 Surge Protector Power Strip
This simplified design makes for easy access and portability. Designed for small electronics, computers, and printer/scanner devices with varying cord lengths to bring power and protection to where you need it.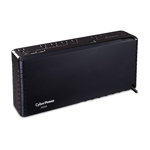 Compact UPS System

Small enough to fit on a desk or tucked out of the way, a compact UPS system offers critical battery backup and surge protection for your home office electronics. Especially useful for routers, modems, and computers to stay powered while you save data and safely shut down when a power event occurs.
Desktop UPS System
For more sophisticated computers, workstations, and networking devices, a more advanced battery backup for your home office may be needed. A desktop UPS system fits neatly under a desk and is available in larger capacities with longer runtimes.
A PLAN IS YOUR BEST PROTECTION
As working from home becomes more common, uninterrupted power and power protection become more are crucial to keep businesses running. With the right plan and tools in place, including battery backup and surge protection, you can stay connected, powered, and protected in any working environment. Whether it's in your company's headquarters, a home office, or remote workspace, you can rely on CyberPower surge protectors and UPS systems for consistent, continuous power and protection.
It's more than peace of mind; it's a strategic way to safeguard your livelihood.
CITED SOURCES:
1. https://www.flexjobs.com/blog/post/remote-work-statistics/
2. https://news.gallup.com/poll/306695/workers-discovering-affinity-remote-work.aspx?utm_source=alert&utm_medium=email&utm_content=morelink&utm_campaign=syndication