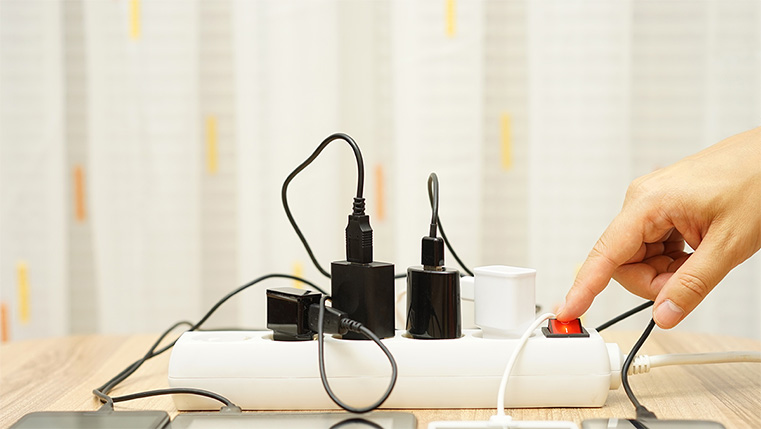 A surge protector is both an insurance policy and an investment in protecting your electronic devices against damaging power events. Here are the DOs and DON'Ts of choosing the right surge protector and knowing when to replace it.
DO
CHECK YOUR CONNECTIONS
In addition to AC outlets, you may need USB, networking, and/or coaxial ports.
PLAN AHEAD
Overestimate the number of outlets you'll need so you can to add more devices later.
KNOW YOUR PLUG SIZES
Choose a surge protector with widely-spaced outlets to accommodate any oversized plugs.
INVEST IN JOULES
The joule rating is the maximum energy that a surge protector can absorb before it fails. So, the more joules the better.
READ THE SMALL PRINT
Make sure the surge protector is UL listed and includes a warranty.
INTENSIFY YOUR DEFENSE
Look for features such as Safe-Fail and Fireproof technology for extra protection against power surges.
GO GREEN
Save money and energy with an energy-efficient surge protector, which features smart outlets that cut powerto devices when not in use.
DON'T

BE CONFUSED BY A POWER STRIP
They may look alike, but a power strip will not protect against power surges.
GET FRUSTRATED
Many surge protectors include Tamper-Resistant outlets as a safety feature. At first, inserting the plug into the outlet may be difficult, but just wiggle it and it will go in. https://www.cyberpowersystems.com/faqs/tamper-resistant-wall-tap/
OVERLOAD IT
Make sure the devices you are plugging into the surge protector don't exceed the wattage capacity
NEGLECT THE NO-NOs
Don't use the surge protector for devices such as space heaters and microwave ovens.
GET IT WET
Don't use a surge protector in potentially damp areas.
DAISY CHAIN IT
Don't plug multiple surge protectors together, also referred to as "daisy chaining".
When should I replace my surge protector?
KEEP SIGHT OF THE LIGHT
When the "Protected" LED indicator light goes out, the surge protector can no longer safeguard your devices against power surges and it's time to buy a new one.
Our surge protectors feature built-in automatic shutdown, lifetime warranties, and connected equipment guarantees. Features vary by product, family, and model. Choose the series that best fits your needs: Advanced, Premium, Premier, Home Theater, Professional, Essential, and Rackbar™.
Shop for the right surge protector solution here: https://www.cyberpowersystems.com/products/surge/