New UPS systems protect mission-critical applications from power-related events with greater convenience and flexibility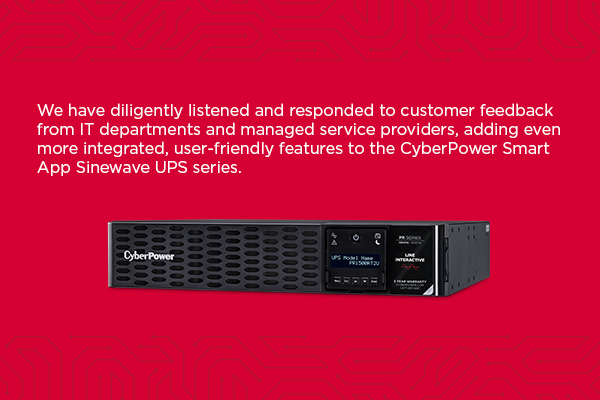 Shakopee, Minn. – June 8, 2019 – Cyber Power Systems (USA), Inc., a leader in power protection and power management products, announces the release of its next generation of professional-grade Smart App Sinewave UPS (Uninterruptible Power Supply) systems. The new Smart App Sinewave UPS systems are customer-driven to align with critical business concerns and offer innovative features that deliver ease of use, flexibility, and cost-effectiveness.
In the age of digital transformation, organizations are developing a growing dependence on power for their mission-critical operations. CyberPower designs UPS systems that support expanding requirements and solve the challenges of contemporary business processes by providing seamless battery backup power to protect sensitive IT equipment and data during power surges and blackouts. CyberPower's UPS systems deliver feature-rich performance at a competitive price. This latest generation of Smart App Sinewave UPS systems are ideal for powering and protecting vital servers and networking equipment.
The UPS systems are configurable as rackmount or tower battery backup units with sine wave output to eliminate power gaps and safeguard sensitive computers, servers, telecom equipment and other devices with Active PFC power supplies. CyberPower Smart App Sinewave UPS systems use automatic voltage regulation (AVR) to correct power fluctuations without having to switch to the battery. Units are remote-management capable and can be purchased with the network management card pre-installed.
"We have diligently listened and responded to customer feedback from IT departments and managed service providers, adding even more integrated, user-friendly features to the CyberPower Smart App Sinewave UPS series. These enhancements are designed to save time during installation and operation while ensuring a long product lifecycle for owners," says Tracey McMeekin, senior product manager at CyberPower. "The new UPS line gives IT professionals greater flexibility to configure and customize the UPS to meet their unique operating requirements."
Customer-inspired features include:
Innovative LCD screen rotates 90 degrees for easier rackmount/tower configuration and tilts 15 degrees for improved viewing in a lower rack position.
LCD screen provides information on 47 different settings, allowing for greater customization and control regarding UPS status, setup, control management, and testing options.
Color-coded rear panel simplifies installation, particularly in dimly lit server room environments.
Toolless front panel and battery panel access makes battery changes simple and fast.
Enhanced power technology features include:
Battery equalization technology charges the voltage of each battery at a similar level to increase battery life.
Fast-charge technology allows extended battery modules to return to full capacity quickly by using a built-in charger.
The new Smart App Sinewave UPS series will include 25 models with outputs ranging from 750 VA/750 Watts to 3,000 VA/3,000 Watts. Like all CyberPower professional-grade power protection products, Smart App Sinewave UPS systems are compatible with CyberPower's PowerPanel® Business Edition power management software. PowerPanel Business Edition is available for free download at https://www.cyberpowersystems.com/products/software/power-panel-business/.
About Cyber Power Systems (USA), Inc.
CyberPower designs and manufactures uninterruptible power supply systems, power distribution units, surge protectors, remote management hardware, power management software, mobile chargers and connectivity products. The company serves customers in enterprise, corporate, government, education, healthcare and small office/home office environments. CyberPower products are available through authorized distributors and sold by value-added resellers, system integrators, managed service providers, select retailers and online resellers. For more information, visit: https://www.cyberpowersystems.com/.