Advanced fireproof and safe-fail protection keep electronics and families safe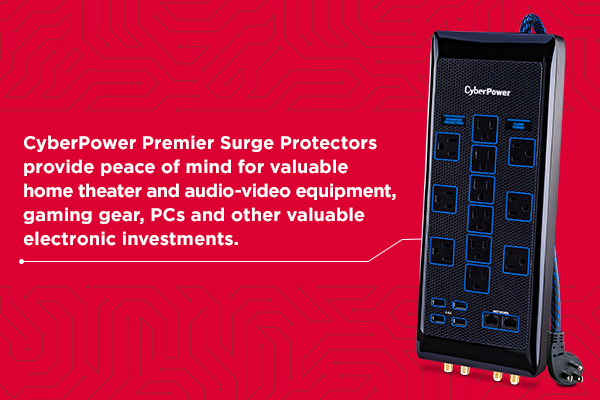 Shakopee, Minn.  – August 21, 2018  – Cyber Power Systems (USA), Inc., a leader in power protection and management products, and The Home Depot® (NYSE: HD) today announced a launch partnership to bring a new line of CyberPower Surge Protectors to the retailer's locations nationwide and on homedepot.com. The three new Premier CyberPower Surge Protectors offer guaranteed, advanced protection of consumer electronics from power-related events such as voltage spikes and lightning-induced surges.
"CyberPower brings more than 20 years of experience in delivering high-quality power protection products to businesses and consumers," said Todd Magnuson, vice president at CyberPower. "As a true manufacturer, we are driven to meet the highest standards of quality, performance and customer value. Through our partnership with The Home Depot, we are able to meet consumers' growing need for dependable power products that keep their equipment and homes safe."
CyberPower Premier Surge Protectors
"Our CyberPower Premier line of surge protectors provide peace of mind for valuable home theater and audio-video equipment, gaming gear, PCs and those never-lose electronic investments. Consumers will find a model to meet their unique power and location needs, from table-top friendly designs and corded and non-corded options to a volume of outlet configurations," said Thomas "Teej" Thaldorf, product manager at CyberPower.
Features include:
Advanced fireproof technology which protects against electrical fires by eliminating potential flames or sparks during event suppression.
Safe-fail technology that cuts power to connected equipment when the unit can no longer provide surge protection.
High joule rating: a premium level of energy absorption at 1680 joules to 2880 joules of protection, depending on the unit.
Two of the surge protectors are power strips with easy-coil, kink-resistant cords which are abrasion resistant. A third model is a wall-mount unit. Each unit has multiple, wide transformer-spaced AC outlets, and at least two USB charging ports with 4.8-amp output for fast charging of mobile devices. For additional product details, see Model # HT1206UC2RC1; 7-outlet surge protector Model # HT706UC; and 6-outlet surge protector Model # HT600WSU2A.
Like all CyberPower products, the Premier line of surge protectors come with industry-leading warranties which include a lifetime limited warranty and connected equipment guarantees of $250,000 to $500,000, depending on the model.
Additional CyberPower products available at The Home Depot stores nationwide and at homedepot.com include an extensive selection of surge protectors as well as UPS battery backup systems, power inverters, universal AC adapters, universal DC adapters and travel adapters-converters.
About The Home Depot
The Home Depot is the world's largest home improvement specialty retailer, with 2,285 retail stores in all 50 states, the District of Columbia, Puerto Rico, U.S. Virgin Islands, Guam, 10 Canadian provinces, and Mexico. In fiscal 2017, The Home Depot had sales of $100.9 billion and earnings of $8.6 billion. The Company employs more than 400,000 associates. The Home Depot's stock is traded on the New York Stock Exchange (NYSE: HD) and is included in the Dow Jones Industrial Average and Standard & Poor's 500 Index.
About Cyber Power Systems (USA), Inc.
CyberPower designs and manufactures uninterruptible power supply systems, power distribution units, surge protectors, remote management hardware, power management software, mobile chargers and connectivity products. The company serves customers in the enterprise, corporate, government, education, healthcare and small office/home office environments. CyberPower products are available through authorized distributors and sold by value-added resellers, system integrators, managed service providers, select retailers and online resellers. For more information, visit https://www.cyberpowersystems.com.
Contact:
Cyber Power Systems (USA), Inc.
Tim Madsen, 952-403-9500
tmadsen@cpsww.com