New features bring operational efficiencies to enterprise IT departments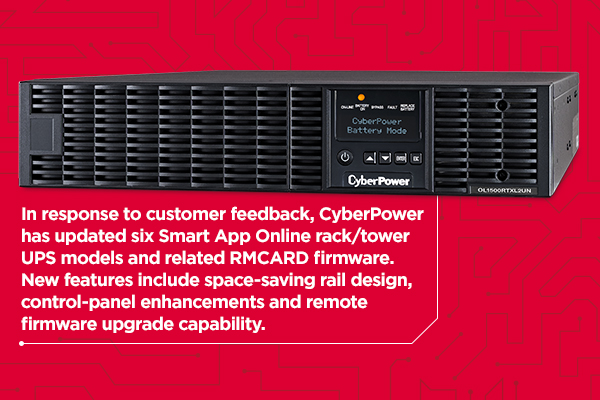 Shakopee, Minn. – January 30, 2018 – Cyber Power Systems (USA), Inc., a leader in power protection and management products, has upgraded several of its enterprise-level Smart App Online rack/tower UPS models that feature double-conversion technology and related remote management card (RMCARD) firmware. The product enhancements bring IT managers, infrastructure managers and system administrators greater convenience and flexibility when managing their mission-critical systems and equipment either locally or remotely.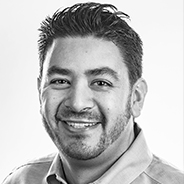 "To make IT life easier and bring operational benefits, we have responded to user feedback and the evolving needs of IT professionals by adding new functionality to our Smart App Online UPS models such as enhanced control panel management upgrades," said Dorian Haro-Gonzalez, senior product manager at CyberPower. "Combined with RMCARD firmware release updates, the new functionality supports extended lifecycle of the product while improving energy management and reducing on-site technician visits with added remote capabilities."
Improvements to Smart App Online rack/tower UPS models
The upgrades apply to the following CyberPower Smart App Online rack/tower UPS models: OL1000RTXL2U; OL1500RTXL2U; OL1500RTXL2UN; OL2200RTXL2U; OL3000RTXL2U; and OL3000RTXL2UHV. Added features and benefits include:
Reduced audible noise from variable four-speed fans, replacing dual-speed fans.
View and change IP address via the UPS LCD control panel: convenient local access to configuration settings allow on-site staff to confirm or change the IP address, without needing to access the network, following equipment installations or change-outs.
Record output cumulative energy in watt-hours via LCD control panel to track energy consumed from every device connected to the UPS.
Space-saving hanging rail design simplifies and speeds up UPS installation.
Capability to upgrade the UPS firmware remotely in conjunction with upgrades to CyberPower RMCARD firmware.*
*The upgrades apply to the following CyberPower remote management cards: RMCARD205; RMCARD305; RMCARD205TAA; and RMCARD305TAA. RMCARD requires firmware release v.1.10 or above and CyberPower Smart App Online series UPS firmware version of Sv3A00 or above.
About Cyber Power Systems (USA), Inc.
CyberPower designs and manufactures uninterruptible power supply systems, power distribution units, surge protectors, remote management hardware, power management software, mobile chargers and connectivity products. The company serves customers in enterprise, corporate, government, education, healthcare and small office/home office environments. CyberPower products are available through authorized distributors and sold by value-added resellers, system integrators, managed service providers, select retailers and online resellers. For more information, visit: : https://www.cyberpowersystems.com/.
Contact:
Cyber Power Systems (USA), Inc.
Tim Madsen, 952-403-9500
tmadsen@cpsww.com
View Press Release: https://www.businesswire.com/news/home/20180131005260/en/CyberPower-Upgrades-1000-VA-3000-VA-Online