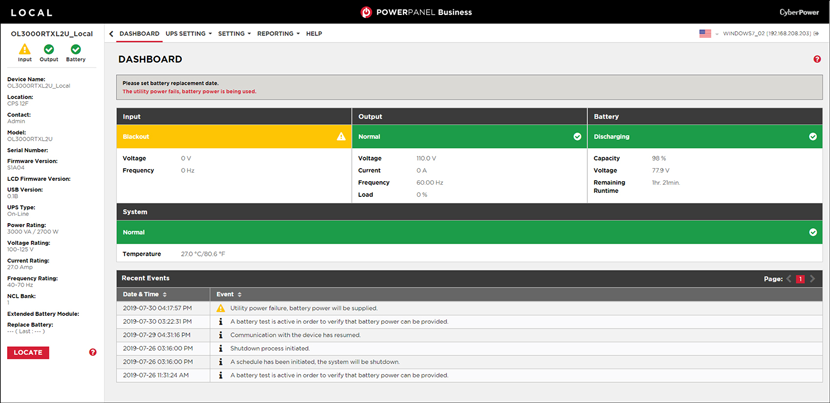 CyberPower has released an update to PowerPanel Business. Please read on for feature improvement details and a quick link to download the update.
PowerPanel® Business v4.7 Release Notes
New Feature
Local, Remote, and Management Modules now include an "Add Software Update" option
Feature Improvements
Updated security patch for Virtual Appliance in the Local and Remote modules
Management Dashboard

Provides an option to search devices by status or device name
Adds device location as an option

PowerPanel Cloud Support

Adds the ability to connect to the PowerPanel Cloud using the Local Module (the purchase of a license is required)

Added new language options

French
Polish
Traditional Chinese
Simplified Chinese

Advanced Command Script

Option to write a command to execute a status on the log file
Can be set as a default script

PowerPanel Business Management Updates

Adds the ability to manually input a device IP address in the device settings
Installations up to 30 nodes with no action required
For installations over 30 nodes contact your US CyberPower Systems sale representative or CyberPower's US Technical Support to add more nodes

Nutanix and VMware

Updated to add Nutanix support including Nutanix AHV graceful shut down to both Remote and Local modules
Adds support for VMware ESXI 7.0 to both Remote and Local modules

License Agreement

The Installer and User's manual includes an updated License Agreement
Fixes
Local, Remote, and Management

Resolves an issue receiving Clickatell SMS messages

Local

Fixes an API-related problem that causes a software disconnection issue in macOS 10.15 & 11.x

Remote

Addresses an issue of not showing power failure events when connected to primarily the OLS series and with some other new models of UPS

Management

Resolves a communication problem with the RMCARD205 when connected to the latest revision of the Smart App Sinewave UPS series, as well as some other UPS models that have encountered the issue.
Note: previous release of PowerPanel® Business was v4.4.0
STOP! A FEW IMPORTANT NOTES BEFORE YOU START YOUR UPDATE.
Updating the software may cause the of loss all the notifications/shutdown/sensitivity settings.
Save your settings by taking pictures or screenshots of your configuration and settings.
We recommend uninstalling the previous version of the software before you install the next version.
Questions? 
Contact Tech Support Monday through Friday from 7am– 6pm CST.
Details and download links for specific operating systems available here: https://www.cyberpowersystems.com/products/software/power-panel-business/
Install Details
PowerPanel Business for Linux 32bit

File Name: ppb470-linux-x86.sh
MD5: C8C18CFE223A3A140F6D6D5B3B6B0F24
PowerPanel Business Management for Linux 32bit

File Name: ppb470_mgt-linux-x86.sh
MD5: DA1726EF746538733169F60724C3D8EF
PowerPanel Business for Linux 64bit

File Name: ppb470-linux-x86_x64.sh
MD5: 2DCD9DB2525D727EBA200B19B7828FDA
PowerPanel Business Management for Linux 64bit

File Name: ppb470_mgt-linux-x86_x64.sh
MD5: 7F94FBE93F581AA3679699E9A0FC1199
PowerPanel Business for Windows

File Name: ppb470-setup.exe
MD5: 6D8565EF257636F9E5EF12C0314DD778
PowerPanel Business Management for Windows

File Name: ppb470_mgt-setup.exe
MD5: 7BDE19FB52689C27F90925897DB1C6C5
PowerPanel Business Local for Virtual Machines

File Name: va_ppb470-local.zip
MD5: 75A3891BD7D9BF15CF11133A12E2C2F8
PowerPanel Business Remote for Virtual Machine

File Name: va_ppb470-remote.zip
MD5: 815DC651333F117C90F3AD3BE9A2C0C9
PowerPanel Business for macOS

File Name: ppb470-setup.dmg
MD5: F13E8EC70C736C56138F0407BAC80AB8
PowerPanel Business Management for macOS

File Name: ppb470_mgt-setup.dmg
MD5: 2999475DE5DF1AF4982FFB7269E460A8