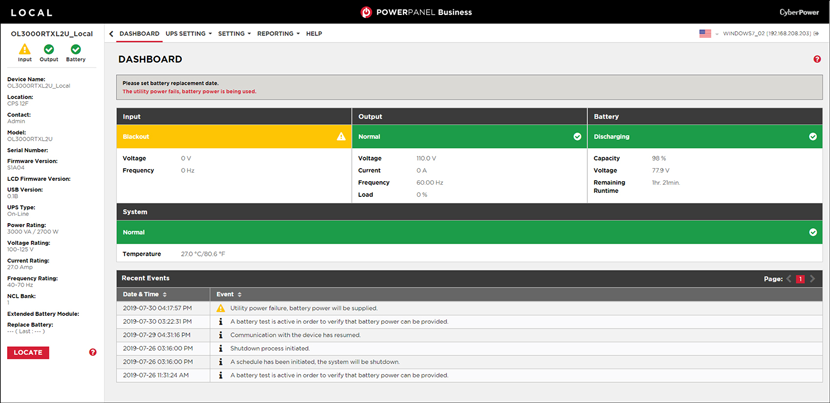 CyberPower has released an update to PowerPanel Business. Please read on for feature improvement details and a quick link to download the update.
PowerPanel® Business v4.8.0 Release Notes
New Feature
Local, Remote, and Management Modules

Support for Windows 11, macOS 12, and Debian 11 added

Management Module

Supports embedded SNMP MIB files for APC and Eaton UPS
Creates the license automation process when activated node license keys

Local Module

Now has a Battery Health Index (BHI) added as a feature
Feature Improvements
Local, Remote, and Management Modules

Optimized the SETTING menu and separated them into different categories
Enables the selection of TLS versions
Improved the process for Gmail authorization
Fixes
Local, Remote, and Management

Resolves an issue where a URL cannot be applied successfully when selecting HTTP GET as the SMS Provider

Local

Fixes a problem where the UPS will not be shut down when the event "Battery capacity is critically low." is selected.
Note: previous release of PowerPanel® Business was v4.7.0
STOP! A FEW IMPORTANT NOTES BEFORE YOU START YOUR UPDATE.
Updating the software may cause the of loss all the notifications/shutdown/sensitivity settings.
Save your settings by taking pictures or screenshots of your configuration and settings.
We recommend uninstalling the previous version of the software before you install the next version.
Questions? 
Contact Tech Support Monday through Friday from 7am– 6pm CST.
Details and download links for specific operating systems available here: https://www.cyberpowersystems.com/products/software/power-panel-business/
Install Details
PowerPanel Business Local/ Remote for Windows

File Name: PPB_Windows_v4.8.0.exe
MD5: 171FFD147FD84A5CC20D20AC54F1AE36
PowerPanel Business Management for Windows

File Name: PPB_Mgt_Windows_v4.8.0.exe
MD5: F8F036BA6A7A3ABAC4435F9288718628
PowerPanel Business Local for Virtual Machine

File Name: PPB_Local_Virtual_Machine_v4.8.0.zip
MD5: 6D8F095389AEABF36EAA42B78AF43758
PowerPanel Business Remote for Virtual Machine

File Name: PPB_Remote_Virtual_Machine_v4.8.0.zip
MD5: C63ABF9F9C564AC7E5B20FDDF9B03893
PowerPanel Business Local/ Remote for Mac

File Name: PPB_Mac_v4.8.0.dmg
MD5: 8DE08358E94F8A9EBB79507BE3977617
PowerPanel Business Management for Mac

File Name: PPB_Mgt_Mac_v4.8.0.dmg
MD5: 3344A3320E9BE5B386C29A08579CBDE8
PowerPanel Business Local/ Remote for Linux 32bit

File Name: PPB_Linux_32bit_v4.8.0.sh
MD5: FBA779D846033BF78129205ABEE191DA
PowerPanel Business Local/ Remote for Linux 64bit

File Name: PPB_Linux_64bit_v4.8.0.sh
MD5: 61F56BFC6A6E6ECBBA065B78C33C8B1B
PowerPanel Business Management for Linux 32bit

File Name: PPB_Mgt_Linux_32bit_v4.8.0.sh
MD5: F8A131BE400D935C68FCD9A0D5867882
PowerPanel Business Management for Linux 64bit

File Name: PPB_Mgt_Linux_64bit_v4.8.0.sh
MD5: B3B6B129E5C2A6C37A6000C0E3525470