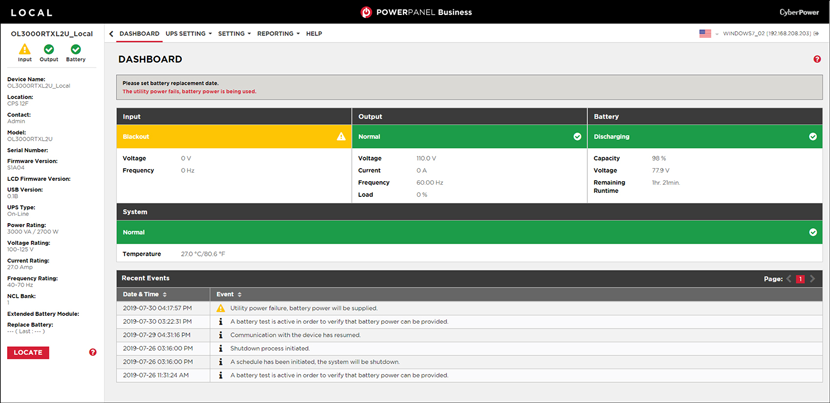 CyberPower has released an update to PowerPanel Business. Please read on for feature improvement details and a quick link to download the update.
PowerPanel® Business v4.8.6 Release Notes
New Feature
Local, Remote, and Management

Adds rear panel layouts for new products.

Local
Adds an image of the surge bank on the Connected Equipment page.
Feature Improvements
Local, Remote, and Management

Enhancements to security added to software structures.

Local and Remote:
Fixes
Local, Remote, and Management

Event notifications will no longer be supported by Gmail due to a worldwide policy change made with Google OAuth
Local

Resolves an issue with detecting the number of EBMs automatically in the UPS Information list.
Note: previous release of PowerPanel® Business was v4.8.1
Questions? 
Contact Tech Support Monday through Friday from 7am– 6pm CST.
Details and download links for specific operating systems available here: https://www.cyberpowersystems.com/products/software/power-panel-business/
Install Details
PowerPanel Business Local/ Remote for Windows

File Name: PPB_Windows_v4.8.6.exe
MD5: 0E2427C28FC959DBDA0B95D301590098
PowerPanel Business Management for Windows

File Name: PPB_Mgt_Windows_v4.8.6.exe
MD5: F5DE3EB324FA99F288025F997A915080
PowerPanel Business Local/ Remote for Mac

File Name: PPB_Mac_v4.8.6.dmg
MD5: 941D78489BC3AEB88C06CDED3B9DA217
PowerPanel Business Management for Mac

File Name: PPB Mgt_Mac_v4.8.6.dmg
MD5: ED570BE80A8363C1EBB4F3794F701510
PowerPanel Business Local/ Remote for Linux 32bit

File Name: PPB_Linux 32bit_v4.8.6.sh
MD5: A107BE8BAC544AA5781D8147558C7B3E
PowerPanel Business Local/ Remote for Linux 64bit

File Name: PPB_Linux 64bit_v4.8.6.sh
MD5: 5C612B29EFB7C034C557183D20A67BFC
PowerPanel Business Local/ Remote for Linux 32bit

File Name: PPB Mgt_Linux 32bit_v4.8.6.sh
MD5: 7EF5FEEF57BAF80FE82930DE13ED55E4
PowerPanel Business Management for Linux 64bit

File Name: PPB Mgt_Linux 64bit_v4.8.6.sh
MD5: 4D92C87C6FEC703464CA689D1A6F2999
PowerPanel Business Local for Virtual Machine

File Name: PPB Local_Virtual Machine_v4.8.6.zip
MD5: B016CB85A0368B86A865FF2EEF1AA3F7
PowerPanel Business Remote for Virtual Machine

File Name: PPB Remote_Virtual Machine_v4.8.6.zip
MD5: 69EE84C617EB821C4A1A186F872E5167