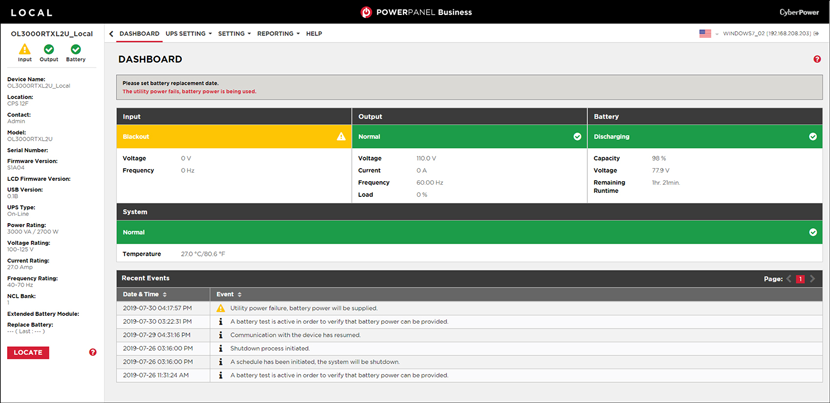 PowerPanel® Business v4.1.1 Release Notes
New & Improved Features
Support German
Support 3-phase PDU
Support PDU Daisy Chain
Add event: Battery Capacity is Critically Low
Minor enhancements
Previous Release Notes for v4.0
PowerPanel® Business 4.0 software makes it easy to monitor and manage CyberPower UPS systems and network-connected PDUs anytime from anywhere. The intuitive interface uses color graphics and indicators to provide at-a-glance UPS status, network power conditions, and instant problem recognition. Unattended shutdowns can be scheduled and automated. Event logs provide key insights for trouble-shooting and prevention of potential power issues. Alert notifications can be sent via email, SMS text, and instant message.
Interface Improvements
UPS status panel stays in view during operation of the software making it easy to reference and identify the battery backup unit and its vitals.
At-a-glance dashboard presents visual cues for immediate status and troubleshooting.
Intuitive organization of the interface makes UPS configuration, automatic shut downs, and event notifications straightforward to manage. Reorganized menus provide logical steps for setup and operation. Tables and color-coded graphics promote intuitive navigation.
The three versions of the software have been renamed to: Local (previous Agent), Remote (previous Client), and Management (previous Center).
Note: Previous release of PowerPanel® Business v4.1 was PowerPanel® Business v4.0.
Questions? 
Contact Tech Support Monday through Friday from 7am– 6pm CST.
Details and download links for specific operating systems available here: https://www.cyberpowersystems.com/products/software/power-panel-business/