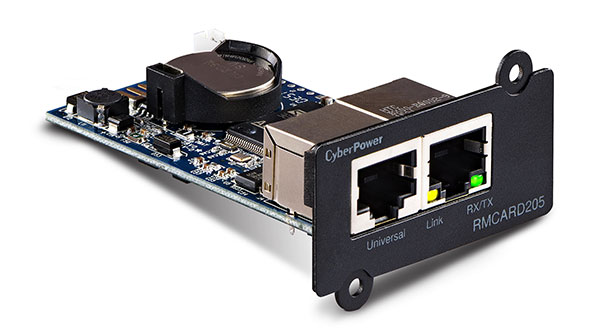 CyberPower has released an update to Remote Management Card Firmware for RMCARD205 and RMCARD305. See what is new in the notes below and download.
RMCARD 205/305 Firmware Version 1.3.7 (US Release Date: 10/15/2022)
New Features
Added support for Modbus TCP via a Web Interface.
Feature Improvements
Event notifications will no longer be supported by Gmail due to a worldwide policy change made with Google OAuth.
Expanded the Name/Location/Contact length up to 63 characters for [System->Identification].
Implemented UPS Energy OID as follows:

upsAdvanceOutputEnergy
upsAdvanceOutputEnergyStartTime
upsAdvanceConfigEnergyReset
atsLoadCfgBankEnergyReset

Updated the display content of the webpage.
Fixes
Corrected issue with the ATS device/bank watt value being displayed incorrectly.
Fixed an issue with the NTP setting not working if the accessed command was from disable to enable with the Command Line Interface (CLI).
Corrected the PDU Type Value from the SNMPv3 trap.
Resolves an issue with special characters '–' are not being allowed when setting NTP.
Corrects an issue where the RMCARD would unexpectedly send a "Utility power failed" event for Smart App LCD (OR) series UPS.
Fixes an issue where the UPS battery voltage value is displayed incorrectly in PowerPanel Business (PPB).
Corrects NCL Bank 2 information on the Web Interface that was displayed incorrectly with the following Smart App Online (OL) series UPS: OL8KRTHD, OL10KRTHD, OL12KRTHD, OL8KERTHD, OL10KERTHD, OL12KERTHD, OL8KRTHDIEC, OL10KRTHDIEC, OL12KRTHDIEC.
Resolves an issue with LDAP was not being able to work when the password length was more than 15 characters.
Questions? Contact Tech Support Monday through Friday from 7am– 6pm cst.
Download link and release notes are available here:
https://www.cyberpowersystems.com/products/software/firmware/