Not long ago, school classroom technology consisted of little more than blackboards, chalk, and pencil sharpeners. Today's classrooms and school libraries have become digital hubs. Instructors and students now have multiple technologies at their fingertips. A typical classroom now might include:
Computer workstations, charging stations, digital notebooks, and tablets
Digital projectors, whiteboards, smart screens, and displays
Scanners, printers, cameras, and A/V equipment
Servers, switches, and networking equipment>
But this new technology can be a budget challenge for many schools. That's why the U.S. Government created the E-rate program, so all students have access to the Internet and digital content. The E-rate program provides discounts to help schools and libraries acquire these new technologies. Under the program, schools and libraries apply for funding to help pay for telecommunications products and services, Internet access, internal connections, and basic maintenance of those internal connections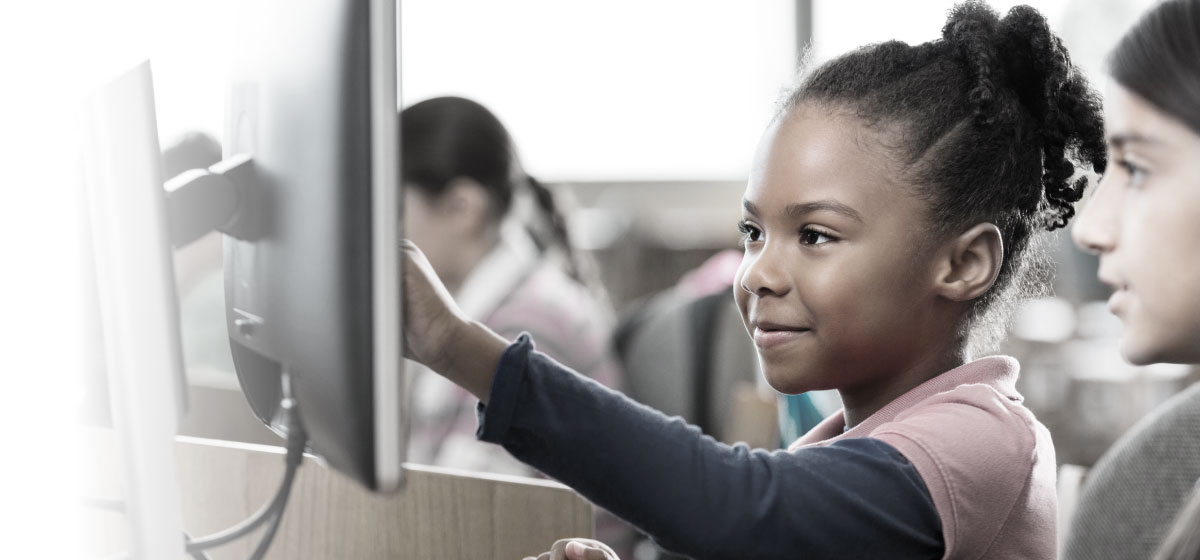 The ongoing proliferation of digital learning technologies has led to a steady rise in demand for bandwidth in schools and libraries. In recent years, the FCC refocused E-rate from legacy telecommunications services to broadband, with a goal to significantly expand Wi-Fi access. These steps to modernize the program are helping E-rate keep pace with the need for increased Internet access.
Why is E-rate important?
As noted, E-rate funding fills the gaps in school funding for new technology and Internet access. Despite pervasive connectivity in most urban areas in the United States, millions of people across the country have no access to broadband services needed to work, learn, and communicate.
What products are eligible for E-rate funding?
Eligible products and services under the E-rate Program are divided into two categories:
Category 1:
Data transmission services
Internet access
Voice services
Category 2:
Internal connections
Managed internal connections
Basic maintenance of internal connections
Battery backups, or Uninterruptible Power Supply (UPS) systems, fall into Category Two, as a data protection component of the information delivery systems E-rate is intended to fund. UPS systems provide reliable power to technology devices, ensuring consistent access to broadband services and, by extension, digital educational curriculum.
For an overview of E-rate eligible services, visit www.usac.org.
Who is eligible for E-rate funding?
Under the E-rate program, schools and libraries are awarded federally funded discounts based on economic need. The discounts range from 20 to 90 percent on infrastructure, equipment, and services to improve their technology.
Does your school qualify for E-rate discounts? Visit www.usac.org/e-rate/.
Uninterrupted Power = Uninterrupted Learning
UPS systems with surge protection and battery backup ensure school technology has the power to keep running and is protected from harmful surges, spikes, and shutdowns. With UPS systems, schools ensure continuous availability of broadband and telecommunication networks, minimize downtime during minor power fluctuations, and prevent data loss and damage that can occur during power failures.
E-rate Program Tips
When applying for E-rate funding, consider timing and the most efficient ways of navigating the application process. Use USAC www.usac.org as a resource. If any questions come up during the application process, the USAC can provide answers.
Plan ahead for future technology needs. Networking and technology can be a major undertaking and requires planning up to three years into the future. Deadlines can change from year to year, so when applying for E-rate projects keep the program due dates in mind. Below is a high-level look at a typical E-rate funding year. Visit www.usac.org/sl for official deadlines and updates.

Key Changes for 2020:
The E-rate Program began over 20 years ago, with program funding on multi-year budget cycles. When a budget cycle ends, funding terms may change for the next cycle. The current budget cycle began in 2015 with a five-year test period that expanded the eligible offerings to include Category 2 products and services. This test period is coming to an end and 2020 has been designated as a transition year to bridge the old budget cycle to the new cycle beginning in 2021, when the new funding formulas take effect.
Note: ANY funding received for 2020 is "use it or lose it" as the new funding formulas take effect in 2021. Make sure you utilize any and all E-rate funding received in 2020!
Timeline:
2015 – 2019: Phase 1 – Addition of Category 2 products and services to E-rate program
2020: Transition Year – Phase 1 funding continues, but at a prorated level

Notes for 2020:
Funding will continue to be calculated on an individual school or individual library basis

Individual school funding will be calculated on the number of students attending that school
Individual library funding will be calculated on the total square footage of the library multiplied by a multiplier

The multipliers and the funding floor for 2020 will be calculated by increasing the FY2019 multipliers and funding floor by 20%, and adjusting for inflation
E-rate Program participants will not be able to carry over remaining 2020 funding into 2021

2021: Phase 2 – New funding formulas take effect in new budget cycle
Visit www.usac.org/e-rate for more information and to determine your 2020 E-rate Program funding opportunities.
Why CyberPower?
Power is our focus. That's how we lead with technology innovations. As a direct manufacturer, we control product quality at every step from product design to production to delivery. This allows us to offer on-time delivery, greater product value plus industry-leading warranties and connected equipment guarantees – all backed by US-based technical support. To learn more, go to cyberpowersystems.com.
Make sure your students have access to the latest learning technology. Take advantage of E-rate discounts and start planning today!
For more information about E-rate, check out the E-rate informational guide on CyberPowerSystems.com