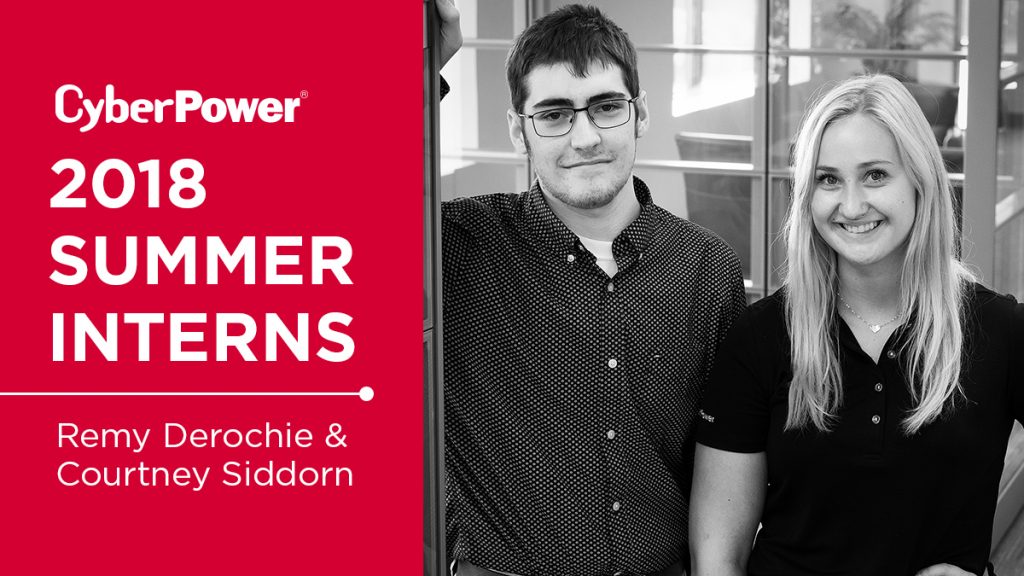 Our CyberPower Marketing department was fortunate to have extra help over the past few months from our summer interns!
Who are our summer interns?
Courtney Siddhorn spent part of her summer working with our Channel Marketing team assembling tradeshows, events and brightening up the warehouse with her smile!
Remy Derochie assisted the Digital Marketing with building online content, assisting with website maintenance and keeping us all entertained with jokes and anecdotes.
Before they made their way back to school we wanted to know–what was their favorite part of working at CyberPower this summer?
Courtney, who is on her third summer internship with CyberPower, said her favorite part was collaborating with and assisting Rachel Jensen, our Tradeshow Coordinator, and she wouldn't want to work with anybody else! Her plans for the fall include returning to the University of Wisconsin-Eau Claire (UWEC) as a Marketing Major while continuing to play her club sport of choice–hockey! The marketing department consensus is that Courtney can come back anytime. Learn more about Courtney on LinkedIn.
Remy started out at CyberPower in high school assisting with inventory in the warehouse and his people skills earned him the role of training in new staff. This summer he moved to the office to pursue his interest as a marketing major. The digital team made an impact; he plans to focus on web marketing!
Remy will be a junior this year at the University of South Dakota – Beacom School of Business. We'll keep some FAQs for Remy to work on over winter break if he wants to come back. Learn more about Remy on LinkedIn.
Interested in pursuing an opportunity at CyberPower?
Our friendly team is not only dedicated to being #yourultimateallyinpower but strives to work with interns and professionals on career opportunities.
Would you like to join our team?