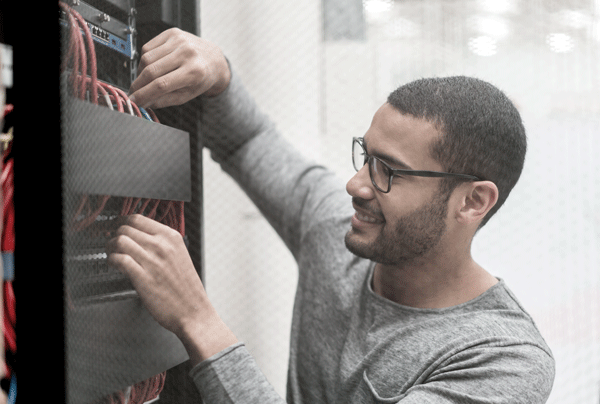 One of the most common mistakes UPS buyers make is the plug selection process. Many overlook the process entirely or make an educated guess. If they guess wrong, they'll have to return the UPS system because their devices won't connect to the UPS, or they won't be able to connect the UPS to the wall outlet. Examples abound of people who've installed racks of UPS systems only to discover at the last minute, with cords in hand, that they guessed wrong on the type of wall outlet they had.
Just thinking about that made you wince, didn't it? Avoid this costly mistake before your next UPS purchase.
Who sets the standards?
The International Electrotechnical Commission (IEC) facilitates the complicated process of reaching agreement among experts from countries all over the world who volunteer to prepare the rules, specifications, and terminology that allow manufacturers to build devices that work together, safely, and as expected.
For this, the IEC provides a platform where representatives from industry, governments, research, and testing laboratories, universities, and so forth, can meet. It also publishes the many consensus-based International Standards for electrical, electronic, and related products, processes, and technologies – collectively known as electrotechnology – that result from these meetings and discussions.
Why are there different plugs?
The National Electrical Manufacturer's Association (NEMA) has developed standards for input (plugs) and output (receptacles) to ensure you do not accidentally connect devices to power sources with incompatible voltages and amperages because this could create dangerous conditions.
Ask yourself two questions. What type of plug does my equipment have? What type of plug should the UPS have?  
Use the chart below to match the correct plug with the correct receptacle. The blade type, voltage, and amperage of a plug must match the blade type, voltage, and amperage of the receptacle. If they don't match, it will be physically impossible to connect the plug to the receptacle, since both the IEC and NEMA standards ensure the plug blades are shaped and spaced differently.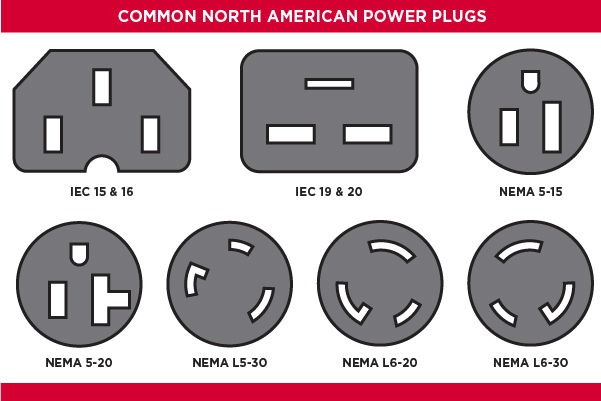 Setting up your first server room or looking to upgrade the power protection in your current locations? You could benefit from a Systems Engineer reviewing your power needs. 
Our complimentary Power Assessment starts by filling out a short 3-step form to collect key information. A CyberPower System Engineer will carefully review all the details and contact you in a day or two with a personalized power recommendation.
Start your free UPS power assessment by a CyberPower Systems Engineer.