Why do you need a Networked UPS System for your Business?
Extreme weather conditions are becoming more common and can cause power outages and brownouts, translating to network downtime.  Even a few minutes of downtime can be disruptive and costly.
For example, the Consumer Electronics Show, commonly known as CES, is the largest tradeshow in the world – 4,500+ companies from 150+ countries exhibit the best products and newest technologies to 175,000+ attendees across manufacturing, retail, government, and more.  In 2018, the show was brought to a halt for two hours by a power outage caused by excessive rain.  Millions of dollars in business were at risk due to this power outage*.
Power outages are one of the most frequent risks to businesses, creating network downtime and reducing productivity.  Even a few minutes of downtime can be disruptive and costly. How costly? According to Gartner: Network downtime on average costs U.S. businesses $5,600 per minute or over $300,000 an hour!
While a power outage at the world's largest tradeshow is an extreme example, if an event as large as CES can be brought to a standstill, so can your business.  You can protect your network and limit downtime with a networked UPS system.
Stay Connected and Protected with a Networked UPS System 
In the event of a power outage, a networked UPS system will help you safely shutdown ALL computing systems in the network from one remote location, monitor power levels, and reduce the risk of losing your data.
There are two key components to a networked UPS system:
UPS system power management software like PowerPanel® Business
Network management card or CyberPower RMCARD
UPS System Power Management Software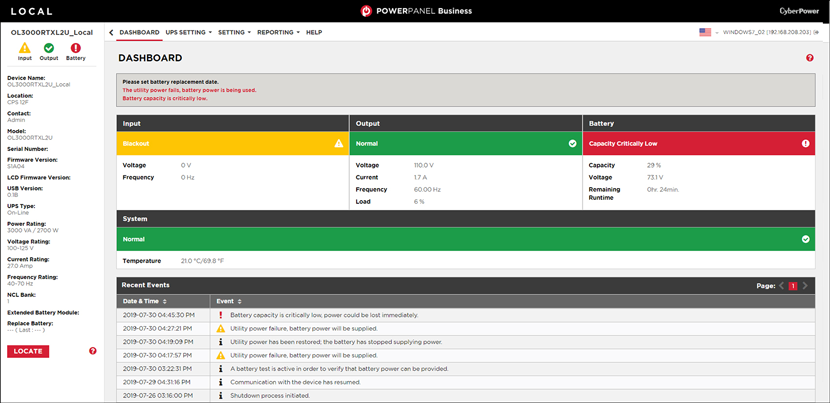 When monitoring software, you can view critical information, receive notifications, and control the UPS system from anywhere. UPS system power management software has evolved into a user-friendly and powerful tool.  UPS software is included free with professional-grade CyberPower UPS Systems. And because it's web-based, the UPS system can be accessed remotely from any web browser.
Essential management functions to look for in UPS power management software are monitoring capabilities, safe shutdown, event notifications, options for configuration, and a user-friendly dashboard:
Monitoring: Monitoring capability provides real-time status of all your power distribution and protection devices.
Shutdown:  Automatic shutdown of your computers and servers in the event of a power outage.
Event Notifications: Send alerts via email, SMS text, and instant messaging about power events and conditions.
UPS Configuration: Easy-to-use controls make setup simple and allow for customized configuration.
Intuitive Dashboard: A user-friendly interface uses color graphics and indicators to provide UPS status at-a-glance, network power conditions, and instant problem recognition for up to dozens of clients, or workstations, at one time.
How the Management Software Talks to the UPS System                                                                      
A UPS system can communicate with the monitoring software in one of two ways:
Direct connection with a USB cable
Through your network via a remote management card
Either method makes UPS management possible, acting as a communication channel between the UPS system and the management software.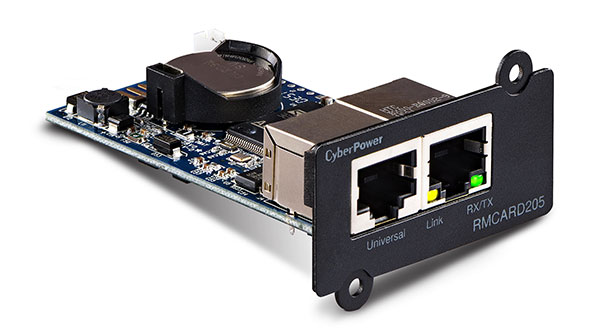 Utilizing Remote Management via an installed CyberPower RMCARD has several advantages:
Status Updates: An RMCARD provides continuous communication with the UPS system, even in environments where PowerPanel® Business monitoring software isn't installed in the connected equipment.
Fewer Wires Needed: It doesn't require a wired USB connection between a computer and the UPS system.
Compatible with Monitoring Software:  It works in conjunction with PowerPanel® Business software when networked.
A remote management card can be added via an expansion slot. Many CyberPower UPS systems come with remote management cards or CyberPower RMCARDs pre-installed.
Powering Your Business. Protecting your Network.
Your business is important to you so it's important to us.
For businesses with multiple workstations and locations, a networked UPS system utilizing management software is the best way to manage and protect your business against data loss and device damage. CyberPower is your ultimate ally in power and the leader in UPS systems and power management software.
Learn more about CyberPower UPS systems mentioned in the article including PowerPanel® Business software.
Need to know more about calculating your UPS system needs? Choosing a UPS system is a balancing act between "oversizing" and "undersizing" and this article will provide guidelines to get you started.
*Source:  https://www.cnet.com/news/the-lights-have-gone-off-at-ces-2018/