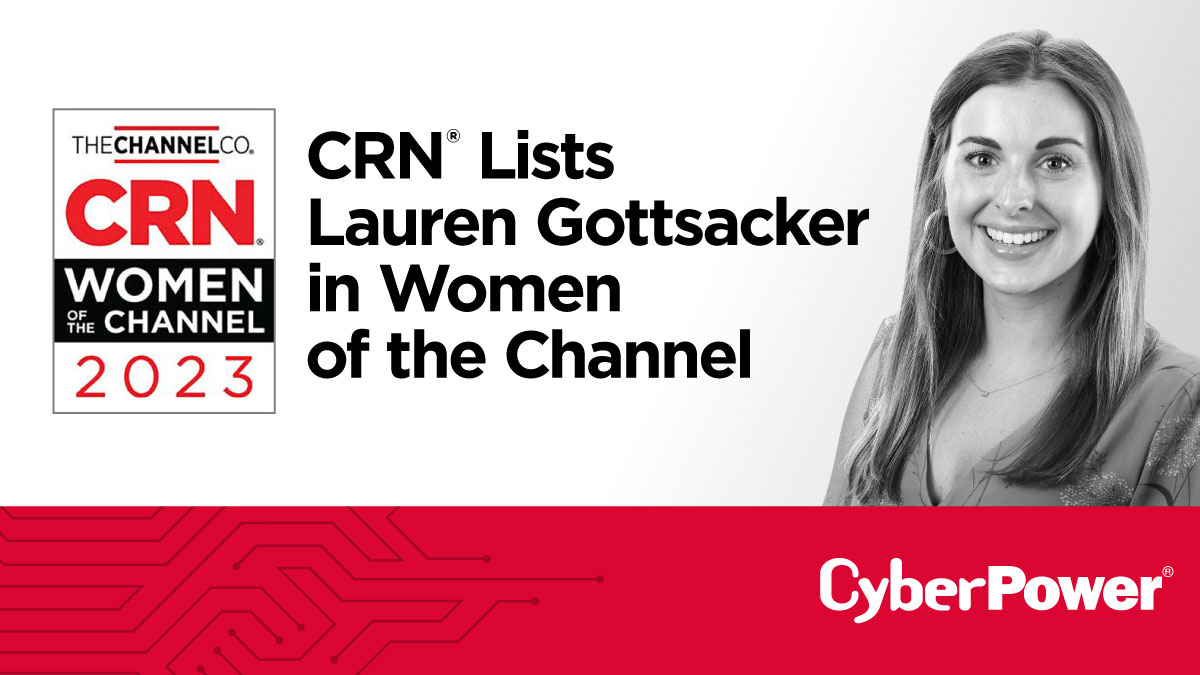 SHAKOPEE, Minn. – Cyber Power Systems (USA), Inc. a leader in power protection and power management products, announced today that CRN®, a brand of The Channel Company, has named Lauren Gottsacker, channel account manager at CyberPower, to the Women of the Channel list for 2023. Every year, CRN recognizes women from vendor, distributor, and solution provider organizations whose expertise and vision are leaving a noticeable and commendable mark on the technology industry.
The CRN 2023 Women of the Channel honorees bring their creativity, strategic thinking and leadership to bear in a variety of roles and responsibilities, but all are turning their unique talents toward driving success for their partners and customers. With this recognition, CRN honors these women for their unwavering dedication and commitment to furthering channel excellence.
Gottsacker joined CyberPower in 2019 following channel account and business development roles at Carbonite, a data backup solutions provider. At CyberPower, she has focused her efforts on developing best-in-channel partnerships, partner enablement and creating new sales pipelines at her accounts which include CDW, among other major direct market reseller partners.
"Lauren brings a talent for both strategy and execution. She is a true connector and has developed a number of channel outreach programs that not only enrich the customer's product knowledge but brings people together such as monthly 'women of the territory' and sector-specific events," said Scott Koller, vice president of channel sales at CyberPower. "Her contributions to CDW include creating a sales incentive program for their inside sales agents and developing a custom a dashboard for their representatives to view product inventory in real time which has accelerated the sales-to-delivery process."
Gottsacker said: "I'm honored to be recognized by CRN as channel leader. Whether it's learning about an organization or new product offerings, or seeking a better understanding of an audience, I have a never-ending desire to be curious and learn. I look forward to continuing to create meaningful connections in the channel."
"We are ecstatic to announce this year's honorees and shine a light on these women for their significant achievements, knowing that what they've accomplished has paved the way for continued success within the IT channel," said Blaine Raddon, CEO of The Channel Company. "The channel is stronger because of them, and we look forward to seeing what they do next."
The 2023 Women of the Channel list will be featured in the June 2023 issue of CRN Magazine, with online coverage at www.CRN.com/WOTC.
About Cyber Power Systems (USA), Inc.
CyberPower designs and manufactures uninterruptible power supply systems, power distribution units, surge protectors, remote management hardware, power management software, mobile chargers and connectivity products. The company serves customers in enterprise, corporate, government, education, healthcare and small office/home office environments. CyberPower products are available through authorized distributors and sold by value-added resellers, system integrators, managed service providers, select retailers, and online resellers. For more information, visit:
https://www.cyberpowersystems.com/.
About The Channel Company
The Channel Company enables breakthrough IT channel performance with our dominant media, engaging events, expert consulting and education, and innovative marketing services and platforms. As the channel catalyst, we connect and empower technology suppliers, solution providers, and end users. Backed by more than 30 years of unequalled channel experience, we draw from our deep knowledge to envision innovative new solutions for ever-evolving challenges in the technology marketplace. thechannelcompany.com
Contacts
Cyber Power Systems (USA), Inc.
Tim Madsen, 952-403-9500
tim.madsen@cyberpower.com
The Channel Company
Natalie Lewis
nlewis@thechannelcompany.com