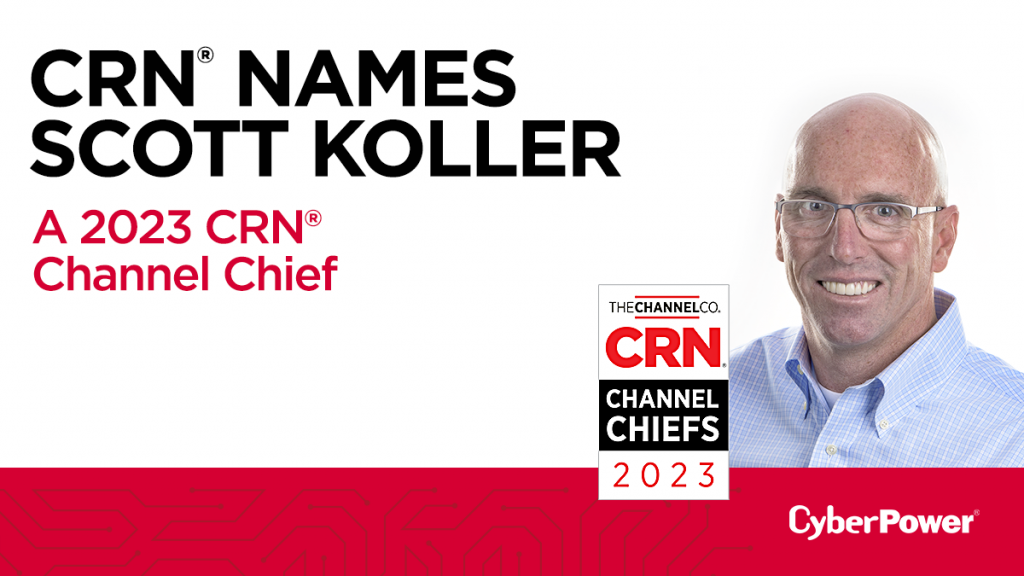 SHAKOPEE, Minn. – Cyber Power Systems (USA), Inc. a leader in power protection and power management products, today announced that CRN®, a brand of The Channel Company, has recognized Scott Koller, vice president of channel sales, as part of its 2023 Channel Chiefs list. Every year, the list honors top IT channel executives who work tirelessly to advance the channel agenda and deliver successful channel partner programs and strategies.
Since 2015, Scott Koller has led channel sales initiatives at CyberPower that have enabled its partners to sell, implement and integrate high-quality power protection products in a market driven by the growth of IoT and IT infrastructure. Every year during his tenure, CyberPower has increased its sales from channel partners at an average growth rate in the double digits. In 2022, Koller guided the successful launch of CyberPower's new 3-Phase Modular UPS systems which are only available through the company's authorized distributors and channel partners, among other channel refreshes and relaunches of its popular UPS system models.
Over the last three years, Koller has helped navigate CyberPower through ongoing supply chain and inventory issues from the disruptions of the pandemic. The year 2022 marked a significant transformation of the company's logistics practices while it opened new facilities in the U.S., Canada and worldwide.
"It's a distinct honor to be recognized by CRN as a top IT channel vendor chief in our valued partner community," Koller of CyberPower said. "We want CyberPower to be the easiest power vendor to work with in the channel. When our partners are doing projects and getting deals done, power should be an easy addition and a great way to expand revenue."
The 2023 CRN Channel Chiefs were selected by the editorial staff based on their record of business innovation and dedication to the partner community. This year's list represents the top IT executives responsible for building a robust channel ecosystem. These channel executives have helped their solution provider partners and customers navigate an increasingly complex landscape of interconnected challenges and shifting industry dynamics.
"Once again, this year's list gives well-deserved recognition to the IT Channel Chiefs who are dedicated to driving the channel agenda and advocating for the development of strong channel partnerships," said Blaine Raddon, CEO of The Channel Company. "Under their exceptional leadership, influence, and innovation, the IT channel vendor community continues to deliver solutions and services that meet the rapidly evolving needs of their solution provider partners and their customers."
The 2023 CRN Channel Chiefs list will be featured in the February 2023 issue of CRN Magazine and online at www.CRN.com/ChannelChiefs.
About Cyber Power Systems (USA), Inc.
CyberPower designs and manufactures uninterruptible power supply systems, power distribution units, surge protectors, remote management hardware, power management software, mobile chargers and connectivity products. The company serves customers in enterprise, corporate, government, education, healthcare and small office/home office environments. CyberPower products are available through authorized distributors and sold by value-added resellers, system integrators, managed service providers, select retailers, and online resellers. For more information, visit:
https://www.cyberpowersystems.com/.
About The Channel Company
The Channel Company enables breakthrough IT channel performance with our dominant media, engaging events, expert consulting and education, and innovative marketing services and platforms. As the channel catalyst, we connect and empower technology suppliers, solution providers, and end-users. Backed by more than 30 years of unequaled channel experience, we draw from our deep knowledge to envision innovative new solutions for ever-evolving challenges in the technology marketplace. thechannelcompany.com
Contact:
Cyber Power Systems (USA), Inc.
Tim Madsen, 952-403-9500
tim.madsen@cyberpower.com
The Channel Company
Natalie Lewis
nlewis@thechannelcompany.com