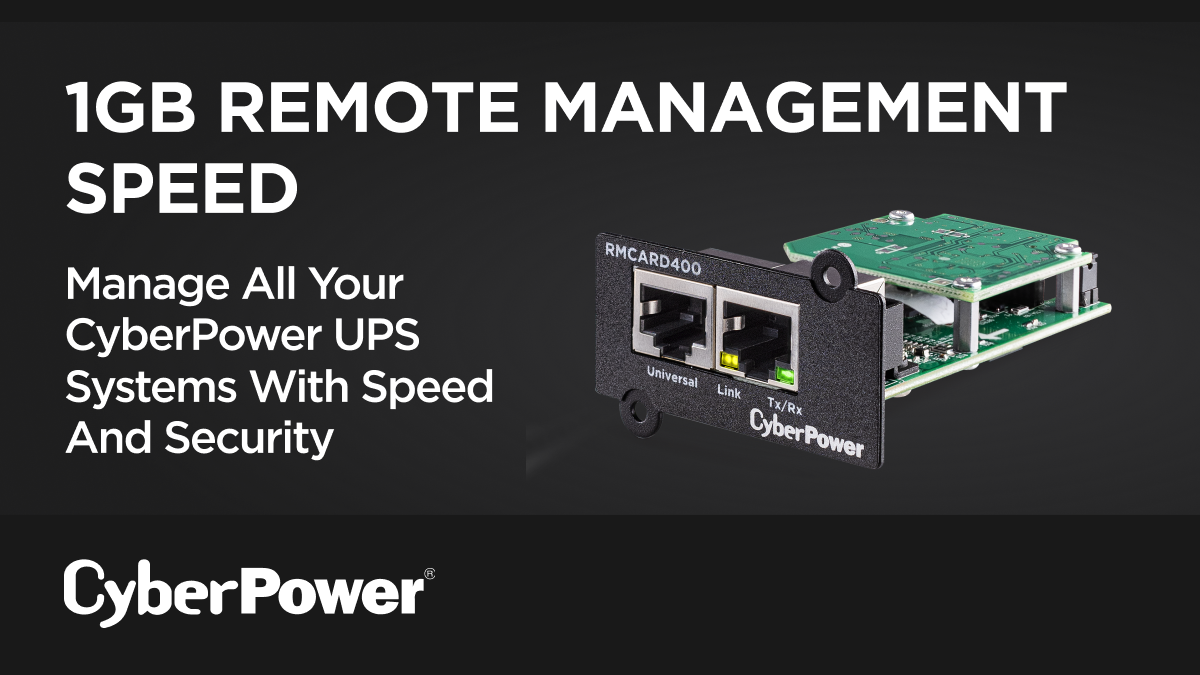 RMCARD400 provides one gigabit ethernet networking speed
Shakopee, Minn. – August 28th, 2023 – Cyber Power Systems (USA), Inc. a leader in power protection and power management products, today announced the launch of its new RMCARD400 remote management card, compatible with networks and devices that require up to one gigabit ethernet speed. Ideal for enterprise-level installations, the RMCARD400 card allows IT administrators to remotely manage, monitor and control select CyberPower UPS (uninterruptible power supply) systems via a web browser, command line interface, SNMP or network management system (NMS).
"Our new remote management card is ideal for more sophisticated networking environments such as enterprise data centers, governments, and schools—giving organizations the speed and performance they need to manage, power and protect their mission-critical equipment from power disruptions," said Tim Derochie, director of applications engineering at CyberPower. "With its powerful 10/100/1000 speed, the CyberPower RMCARD400 has the flexibility to connect with one gigabit networks and legacy 10/100-speed networks."
The new CyberPower RMCARD400 provides robust remote configuration, scheduling and event management features to manage power-management equipment. Remote administrators can schedule UPS system shutdown, startup, and reboot, and manage event action settings, event logging, status recording and automatic event notifications via email, SMS, SNMP traps, or Syslog.
Key features of the RMCARD400 include:
When operated with CyberPower's PowerPanel® Business power management software, remote management protects servers and workstations from data loss due to power failure by initiating an auto-shutdown command from a UPS when a power-loss event occurs. Offsite scheduling functionality includes event action management, event logging and automatic event notification.
Combined with CyberPower PowerPanel Business software, provides administrators with the ability for event logging and status records to trace the UPS system's operational history, including tracking events and input/output power status records.
Optional CyberPower environmental sensor (ENVIROSENSOR) connects to the universal port on the RMCARD400 to monitor ambient temperature and humidity of server room, IT closet or other spaces with user-set temperature thresholds.
The RMCARD400 complements CyberPower's existing line of remote management cards which include the RMCARD205, RCCARD100, and RWCCARD100 via expansion card slot.
About Cyber Power Systems (USA), Inc.
CyberPower designs and manufactures uninterruptible power supply systems, power distribution units, surge protectors, remote management hardware, power management software, mobile chargers and connectivity products. The company serves customers in enterprise, corporate, government, education, healthcare and small office/home office environments. CyberPower products are available through authorized distributors and sold by value-added resellers, system integrators, managed service providers, select retailers, and online resellers. For more information, visit https://www.cyberpowersystems.com/.
Contact
Cyber Power Systems (USA), Inc.
Tim Madsen, 952-403-9500
tim.madsen@cyberpower.com