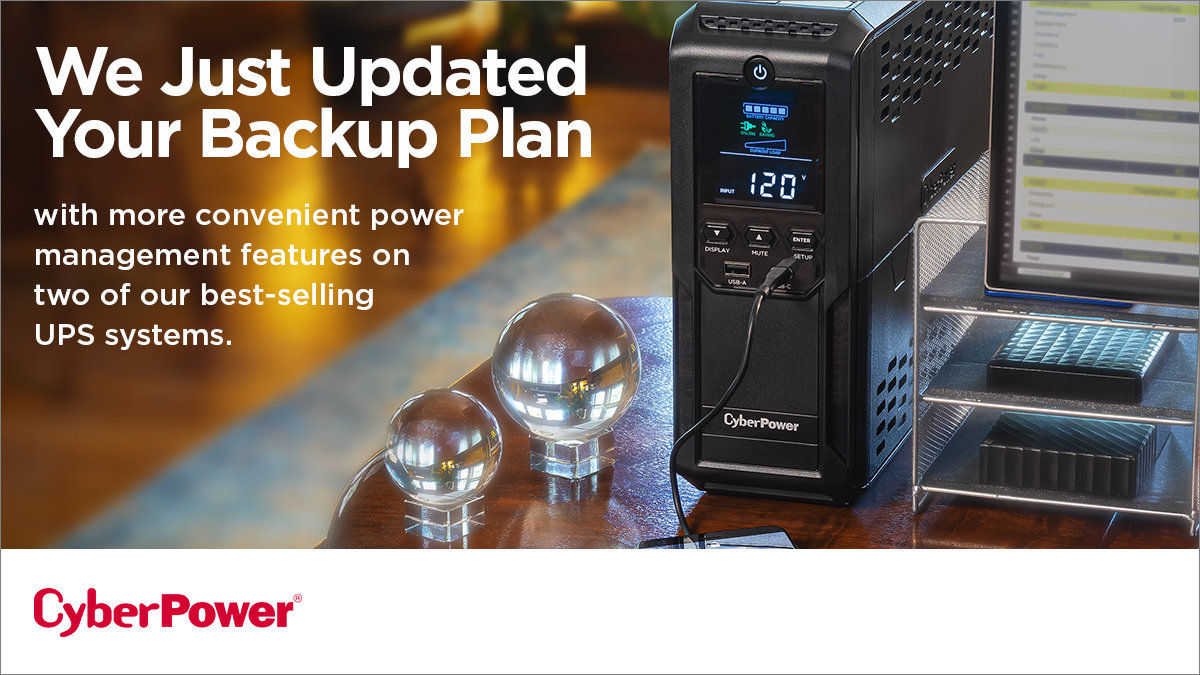 Best-selling, line-interactive mini-tower UPS Systems provide convenient, reliable power protection and battery backup
SHAKOPEE, Minn. – Cyber Power Systems (USA), Inc. a leader in power protection and power management products, today announced the release of two updated Intelligent LCD UPS systems, the latest in the company's mini-tower units that provide battery backup power and surge protection for desktop computers, workstations, networking devices and home entertainment systems.
Ideal for home, small-business and professional settings, the CyberPower Intelligent LCD UPS series provides a simulated sine wave output to supply cost-effective battery backup power. The UPS systems use line interactive topology with automatic voltage regulation (AVR) to stabilize incoming AC voltage to a safe operating range by boosting low voltages without resorting to battery power—conserving battery life and lessening the likelihood of data loss, equipment freezes and system crashes.
"We've refreshed two of our best-selling UPS systems to include more convenient power management features such as including 12 outlets in each model and the addition of USB-A and USB-C ports so users can do things like charge mobile devices, even during a power failure," said Mike Dresen, lead product manager at CyberPower. "We've also improved the multi-function LCD panel to include color icons that clearly communicate UPS status at a glance."
The CyberPower Intelligent LCD UPS systems series update includes two models: the CP1500AVRLCD3 providing 1500 VA/ 900 Watt power-handling capacity, and the CP1350AVRLCD3 providing 1350 VA/ 815 Watt capacity. Additional Intelligent LCD UPS models will be updated in early 2023.
Features of the two new CyberPower Intelligent LCD UPS product line include:
Multi-function colorized LCD control panel icons that provide easy at-a-glance power monitoring and management to quickly confirm status. Green indicates normal operations, yellow for warning, and red for immediate attention is required.
USB charging ports: one USB-A port and one USB-C port accommodates a variety of electronic devices, regardless of whether the UPS is providing utility or battery backup power.
Surge-protected outlets: twelve total, with six battery backup outlets and six surge-protection-only outlets in vertical and horizontal configurations for convenient equipment connection.
The units are compatible with CyberPower's PowerPanel® Personal power management software, providing advanced UPS controls such as scheduling shutdown/reboot and email notifications. PowerPanel is available as a free download for all other compatible CyberPower UPS systems at https://www.cyberpowersystems.com/
About Cyber Power Systems (USA), Inc.
CyberPower designs and manufactures uninterruptible power supply systems, power distribution units, surge protectors, remote management hardware, power management software, mobile chargers and connectivity products. The company serves customers in enterprise, corporate, government, education, healthcare and small office/home office environments. CyberPower products are available through authorized distributors and sold by value-added resellers, system integrators, managed service providers, select retailers, and online resellers. For more information, visit:
https://www.cyberpowersystems.com/.
Contact:
Cyber Power Systems (USA), Inc.
Tim Madsen, 952-403-9500
tim.madsen@cyberpower.com