High-capacity UPS systems feature industry-leading compact design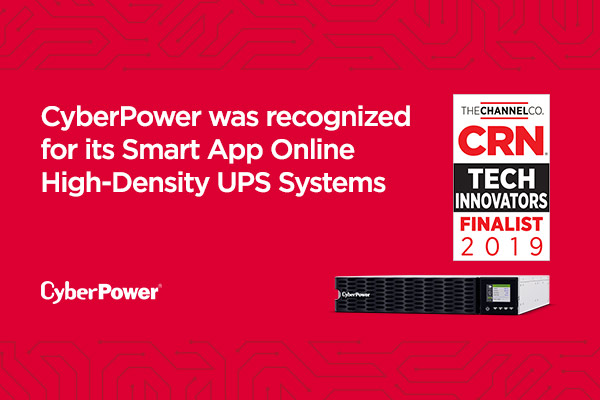 Shakopee, Minn.  – December 6,  2019  – Cyber Power Systems (USA), Inc., a leader in power protection and management products, announced today that CRN,® a brand of The Channel Company, has recognized CyberPower as a finalist in the 2019 CRN Tech Innovator Awards. The annual awards honor innovative hardware, software, and services. In compiling the 2019 Tech Innovator Award list, CRN editors evaluated hundreds of products across 34 technology categories using several criteria, including technological advancements, uniqueness of features, and potential to help solution providers solve common IT challenges.
Launched in mid-2019, CyberPower's new series of Smart App Online High-Density UPS Systems provide power protection for mission-critical applications and high-end system components in advanced server rooms and data centers, ideal for larger enterprises as well as education and government organizations. The UPS systems are available in outputs of 5,000 VA/5,000 Watts and 6,000 VA/6,000 Watts.
"Channel partners can now offer their customers powerful 5-6kVA online UPS systems that deliver more power in less space. The space-saving 2U design provides the flexibility to add more equipment in a crowded rack as IT needs grow," said Tim Derochie, director of product management at CyberPower. "We are thrilled to be recognized by CRN for the technology advancements we strive to bring to the IT community every day."
"CRN's Tech Innovator Awards honor technology vendors who work tirelessly to craft ground-breaking solutions for end-users, matching the speed of the channel's evolution," said Bob Skelley, CEO of The Channel Company. "The winners in this year's award categories deserve congratulations for their success in driving IT innovation forward for solution providers and their customers."
The Tech Innovator Awards are featured in the December issue of CRN and can be viewed online at. crn.com/techinnovators.
About Cyber Power Systems (USA), Inc.
CyberPower designs and manufactures uninterruptible power supply systems, power distribution units, surge protectors, remote management hardware, power management software, mobile chargers, and connectivity products. The company serves customers in enterprise, corporate, government, education, healthcare, and small office/home office environments. CyberPower products are available through authorized distributors and sold by value-added resellers, system integrators, managed service providers, select retailers, and online resellers. For more information, visit https://www.cyberpowersystems.com.
About The Channel Company
The Channel Company enables breakthrough IT channel performance with our dominant media, engaging events, expert consulting and education and innovative marketing services and platforms. As the channel catalyst, we connect and empower technology suppliers, solution providers and end-users. Backed by more than 30 years of unequaled channel experience, we draw from our deep knowledge to envision innovative new solutions for ever-evolving challenges in the technology marketplace. www.thechannelco.com
Contact:
Cyber Power Systems (USA), Inc.
Tim Madsen, 952-403-9500
tmadsen@cpsww.com
The Channel Company
Jennifer Hogan
jhogan@thechannelco.com