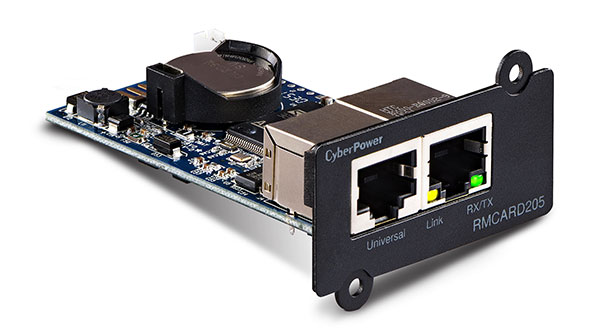 CyberPower has released an update to Remote Management Card Firmware for RMCARD205 and RMCARD305. See what is new in the notes below and download.
RMCARD 205/305 Firmware Version 1.3.0 (US Release Date: 5/15/2020)
New Features
Adds support for TLS v1.2
New commands were added to the Command Line Interface(CLI) : SNMP settings, ATS Control, Trap Receiver, viewer account enable/disable, and reset SSH Hostkey to default.
Updated support for setting LDAP Authentication Mode with "Accredited User", "By Logon User", and LDAP Authorization Mode with "By Group".
Feature Improvements
Improved security feature that requires users to update the username/password after the initial login with the default values.
Improved support for Gmail notifications.
Support for Hostkey uploads via Secure Copy Protocol (SCP).
Added support for setting the range of the Periodical Battery Test for OL series UPS, in Japan, to 1 year.
Added X-Frame options to the http header for enhanced security.
Updated to display the measured value for notification events when the temperature or humidity is above/below the thresholds.
Added support for the format of the domain name in LDAP/RADIUS server fields.
Updated with the options of "return" and "exit" in the console menu mode.
Update UPS configuration OID as follows:

upsAdvanceConfigHighTransferVolt
upsAdvanceConfigAlarm
upsAdvanceConfigMinReturnCapacity
upsAdvanceConfigSensitivity
Fixes
Repaired the issue with the login SSH console via Putty version 0.71 or above.
Fixes an issue with "The Dude" application when it detects and scans the RMCARD with SSH enabled.
Corrects OID value for a Trap event when Source A fails.
Aligns the OID value of "atsStatusRedundancyState" with its definition.
Repairs a login issue that kept redirecting to the login page after the process was completed on the web.
STOP! A FEW IMPORTANT NOTES BEFORE YOU START YOUR FIRMWARE UPDATE.
Updating the firmware may cause the of loss all the notifications/shutdown/sensitivity settings.
Save your settings by exporting your configuration.
Questions? Contact Tech Support Monday through Friday from 7am– 6pm cst.
Firmware download link and release notes are available here:
RMCARD205 details are available here: https://www.cyberpowersystems.com/product/ups/hardware/rmcard205/
RMCARD305 details are available here: https://www.cyberpowersystems.com/product/ups/hardware/rmcard305/