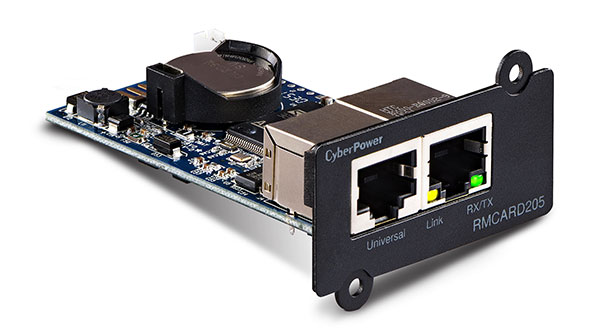 CyberPower has released an update to Remote Management Card Firmware for RMCARD205 and RMCARD305. See what is new in the notes below and download.
RMCARD 205/305 Firmware Version 1.3.1 (US Release Date: 10/16/2020)
New Features
The following SSH Algorithms are supported:

Kex exchange

diffie-hellman-group-exchange-sha256
diffie-hellman-group14-sha256
diffie-hellman-group14-sha1
diffie-hellman-group1-sha1

Ciphers
MAC

hmac-sha2-512
hmac-sha2-256

Added the Challenge-Handshake Authentication Protocol (CHAP) to the RADIUS authentication type.
Feature Improvements
Improved support for the on/off switching control on UPS that has the Critical Outlet Bank feature.
Updated support for the status display of the ATS Output Load Current, ATS Output Load Wattage and UPS Output Current with PowerPanel Business (PPB) Remote 4.4.0 or above.
Add the description "Self Test On the UPS Startup" to the web Interface help page.
Added support for using HTTP Post Request to submit account/password information on the web interface.
Provides support for logging into the RMCARD via Rebex SSH Client.
Updated the descriptions for the command "atsoltcfg" in Command Line Interface (CLI).
Fixes
Corrects an issue with the RMCARD failing to connect with PowerPanel Business (PPB) Remote when using with OR Series UPS.
Fixes an intermittent problem with the UPS/ATS SNMP OID not getting information after RMCARD reboots.
STOP! A FEW IMPORTANT NOTES BEFORE YOU START YOUR FIRMWARE UPDATE.
Updating the firmware may cause the of loss all the notifications/shutdown/sensitivity settings.
Save your settings by exporting your configuration.
Questions? Contact Tech Support Monday through Friday from 7am– 6pm cst.
Firmware download link and release notes are available here:
RMCARD205 details are available here: https://www.cyberpowersystems.com/product/ups/hardware/rmcard205/
RMCARD305 details are available here: https://www.cyberpowersystems.com/product/ups/hardware/rmcard305/