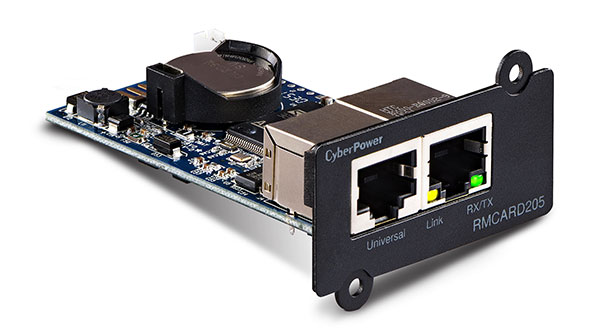 CyberPower has released an update to Remote Management Card Firmware for RMCARD205 and RMCARD305. See what is new in the notes below and download.
RMCARD 205/305 Firmware Version 1.3.3 (US Release Date: 02/19/2021)
New Features
Support of SMS Service Provider function for Clickatell accounts created after 2016.
Adds an error message when the Viewer account/password length is more than 15 characters in the Command Line Interface (CLI).
Adds a log-out message when changing the IP information (IP address, Subnet Mask, and Gateway) in the Command Line Interface (CLI).
Feature Improvements
Updated support for Gmail authentication on SMTP server for verification of Google mail server.
Remove 3DES encryption suite from SSL ciphers for improved security.
Remove TLS V1.0 Protocol from SSL Server for improved security.
Fixes
Corrects an issue with logging into the web interface via Safari and Opera web browser.
Fixes issue that resulted in a failure to follow the setting of Admin Manager IP when using FTP.
Corrects an error with the RMCARD unexpectedly sending the "Low Battery" and "Return from Low Battery" event when the UPS is in Line Mode.
Resolves an issue where the card failed to set Clickatell as SMS Service Provider.
Fixes issue of the card failing to send email to servers with specific date format requirements.
Resolves an issue with the email reception time not matching the event time in the Daylight-Saving Time (DST) zone.
Corrected an issue with being able to set the Viewer Manager IP with subnet mask in the Command Line Interface (CLI).
Solves a problem of an ATS PDU failing to login when using LDAP Server.
Solves a problem of an ATS PDU login and not being able to control the first outlet number defined when using LDAP Server.
Fixes an issue with the user name of the last logged-in user being incorrectly displayed in the field of the user name in all related event logs.
STOP! A FEW IMPORTANT NOTES BEFORE YOU START YOUR FIRMWARE UPDATE.
Updating the firmware may cause the of loss all the notifications/shutdown/sensitivity settings.
Save your settings by exporting your configuration.
Questions? Contact Tech Support Monday through Friday from 7am– 6pm cst.
Firmware download link and release notes are available here:
RMCARD205 details are available here: https://www.cyberpowersystems.com/product/ups/hardware/rmcard205/
RMCARD305 details are available here: https://www.cyberpowersystems.com/product/ups/hardware/rmcard305/