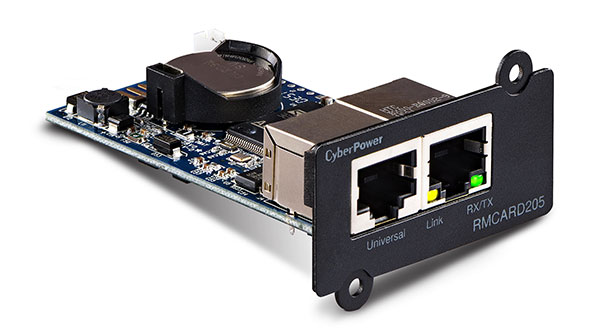 CyberPower has released an update to Remote Management Card Firmware for RMCARD205 and RMCARD305. See what is new in the notes below and download.
RMCARD 205/305 Firmware Version 1.3.5 (US Release Date: 01/21/2022)
New Features
Added a Trap Test command line to the Command Line Interface (CLI).
Feature Improvements
Improved security by removing the 3DES encryption suite and SHA1 algorithm from SSH Server.
Added support to the Reset SSL Certificate and SSH Hostkey by removing the jumper from the reset pins when there is a Firmware/Data version mismatch.
Fixes
Fixes an issue with the RMCARD freezing when users upload a 4096-bit SSH Hostkey.
Corrects the OID value of the UPS Output Status when UPS is in ECO Mode.
Resolves an issue with sending email to servers with serve standard.
Fixes a problem with the Model Name, on the Web Interface, being displayed incorrectly for Three Phase UPS.
Resolves an issue with displaying the correct outlet username, that includes special characters, in the Outlet User Login/Logout events log.
Corrects a problem where the changed values aren't displayed accurately after setting a new Subnet Mask and Gateway on the Web Interface.
Fixes an error where models, that do not support Battery Replacement, will display the UPS Battery Replacement Date field on the Command Line Interface (CLI).
STOP! A FEW IMPORTANT NOTES BEFORE YOU START YOUR FIRMWARE UPDATE.
Updating the firmware may cause the of loss all the notifications/shutdown/sensitivity settings.
Save your settings by exporting your configuration.
Questions? Contact Tech Support Monday through Friday from 7am– 6pm cst.
Firmware download link and release notes are available here:
RMCARD205 details are available here: https://www.cyberpowersystems.com/product/ups/hardware/rmcard205/
RMCARD305 details are available here: https://www.cyberpowersystems.com/product/ups/hardware/rmcard305/