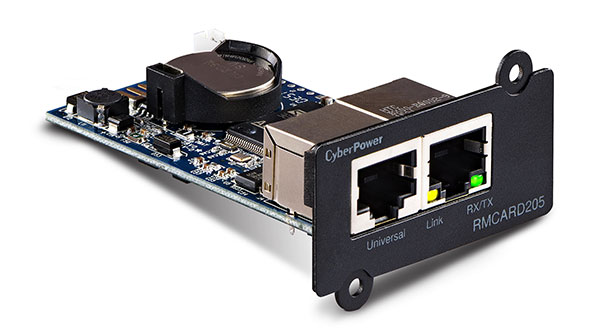 CyberPower has released an update to Remote Management Card Firmware for RMCARD205 and RMCARD 305. See what is new in the notes below and download.
RMCARD 205/305 Firmware Version 1.1.6
New Features
Add the SNMP OID as follows :

envirTemperatureCelsius
envirTempCelsiusHighThreshold
envirTempCelsiusLowThreshold
envirTempCelsiusRateOfChange
envirTempCelsiusHysteresis

Displays the UPS output wattage information via the following ways:

Check the Load field on the UPS status webpage.
Get the SNMP OID upsAdvanceOutputPower
Features Improved
Displays passwords with five asterisks "*****" instead of blank once the password field of the SNMPv3 authentication and privacy are set.
Modify the hint for the quit command to "q" in the "eventlog show" for Command Line Interface (CLI).
Implement the SNMP OID upsAdvanceBatteryVoltage (Not including the OR series UPS)
Issues Fixed
The RMCARD serial number would display 12 zeros in a row after the RMCARD is reset to the default settings.
The E-mail Recipients webpage would not display correctly once the test message is sent to more than one recipient and the DNS server was not functional.
STOP! A FEW IMPORTANT NOTES BEFORE YOU START YOUR FIRMWARE UPDATE.
Updating the firmware may cause the of loss all the notifications/shutdown/sensitivity settings.
Save your settings by exporting your configuration.
Download link and release notes are available here:
RMCARD 205 FIRMWARE
RMCARD 305 FIRMWARE
Questions? Contact Tech Support Monday through Friday from 7am– 6pm cst.