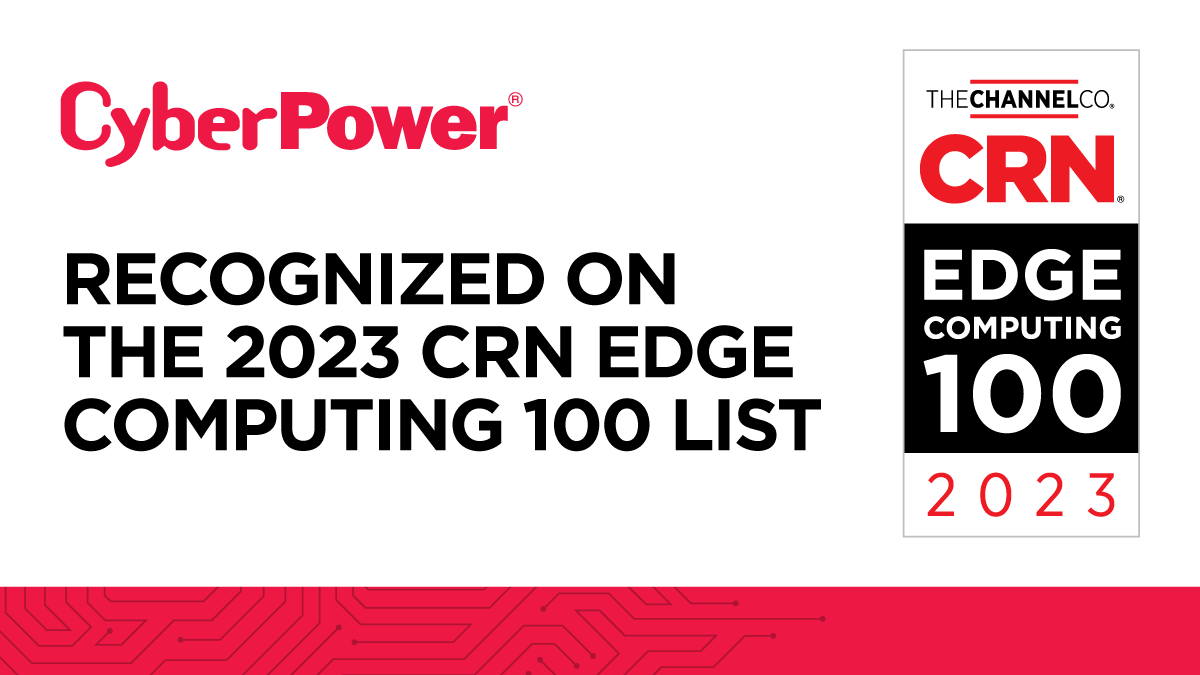 Shakopee, Minn. – August 28th, 2023 – Cyber Power Systems (USA), Inc. a leader in power protection and power management products, today announced that CRN®, a brand of The Channel Company, has named the company to its 2023 Edge Computing 100 list.
With the increasing significance of business intelligence and data analytics, the ability to swiftly gather and process such data on a range of networks and devices on "the edge" — close to the user — is emerging as a crucial distinguishing factor for businesses of all magnitudes. Simultaneously, the requirement to expand corporate networks to encompass a larger number of remote and hybrid workers intensifies the importance of securing the edge.
CRN's fourth-annual Edge Computing 100 list highlights the key vendors that are providing channel partners with the technology to construct next-generation edge solutions that ultimately bring data collection and processing closer to users. The categories encompass Edge Hardware; Edge Software and Services; IoT and 5G Edge Services; and Edge Security.
CyberPower was selected by CRN for this recognition in the Edge Hardware category. The CyberPower SmartApp Sinewave and Smart App Online High-Density UPS lines are among those of its industry-leading products that ensure the uptime of edge computing by providing backup power and protecting equipment from damage in the event of surges or outages.
"We are delighted to be recognized by CRN for our products and solutions that support edge computing. As advances in technologies such as data analytics and 5G connectivity move forward, IoT devices on the edge are only going to increase. It is critical that all of these technology stacks include the critical element of power protection and power management," said Brent Lovett, president and general manager at CyberPower.
"The 2023 Edge Computing 100 list presents a remarkable occasion for CRN to acknowledge pioneering vendors who are providing the technology to construct distinctive edge solutions," said Jennifer Follett, vice president, U.S content, executive editor at CRN The Channel Company. "These companies enable channel partners to help customers operate more efficiently and derive maximum value from their data. We extend our congratulations to all those who have been honored on this year's list."
The 2023 Edge Computing 100 list will be featured in a special November issue of CRN Magazine and online at www.crn.com/edge100.
About Cyber Power Systems (USA), Inc.
CyberPower designs and manufactures uninterruptible power supply systems, power distribution units, surge protectors, remote management hardware, power management software, mobile chargers and connectivity products. The company serves customers in enterprise, corporate, government, education, healthcare and small office/home office environments. CyberPower products are available through authorized distributors and sold by value-added resellers, system integrators, managed service providers, select retailers, and online resellers. For more information, visit:
https://www.cyberpowersystems.com/.
About The Channel Company
The Channel Company enables breakthrough IT channel performance with our dominant media, engaging events, expert consulting and education, and innovative marketing services and platforms. As the channel catalyst, we connect and empower technology suppliers, solution providers, and end users. Backed by more than 40 years of unequalled channel experience, we draw from our deep knowledge to envision innovative new solutions for ever-evolving challenges in the technology marketplace. www.thechannelcompany.com.
Contact:
Cyber Power Systems (USA), Inc.
Tim Madsen, 952-403-9500
tim.madsen@cyberpower.com