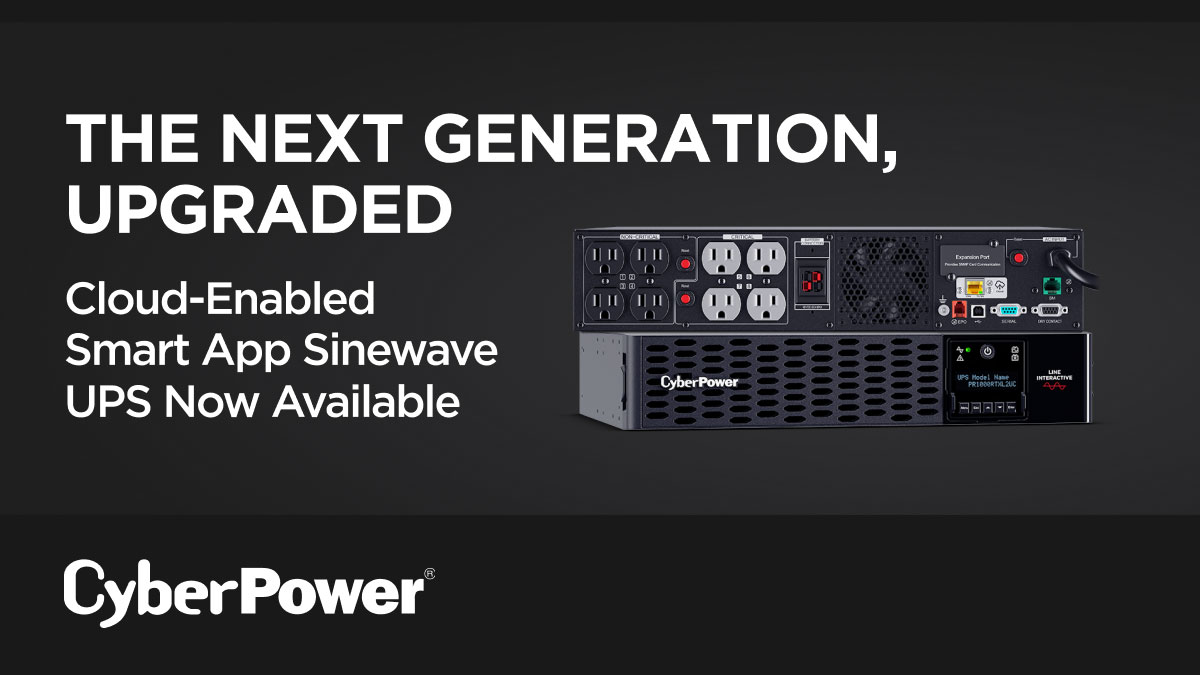 SHAKOPEE, Minn. – Cyber Power Systems (USA), Inc. a leader in power protection and power management products, announced today the relaunch of its Smart App Sinewave UPS (uninterruptible power supply) product line, featuring built-in cloud monitoring and enhanced LCD features to bring even greater convenience, reliability, and efficiency to power and protect electronics such as servers and networking equipment in corporate and data center applications.
Following the debut of the earlier generation of CyberPower Smart App Sinewave UPS systems in 2019, the new product design furthers user-friendly features by making the company's integrated PowerPanel Cloud technology standard on all models and incorporates a new LCD control panel for improved management of power devices. The latest generation of Smart App Sinewave UPS series includes models with outputs ranging from 750 VA/750 Watts to 3,000 VA/3,000 Watts.
"Our PowerPanel Cloud Technology now comes standard on one of our best-selling product lines, the Smart App Sinewave UPS series. This feature allows for power monitoring of the UPS system and connected devices across multiple locations from a smartphone, mobile device or desktop PC, anywhere there is an internet connection," said Neil Amundsen, vice president of product and innovation at CyberPower. "This means it's easier to monitor power conditions and ensure reliable operation of connected devices with reduced IT resources."
The cloud-enabled Smart App Sinewave UPS systems feature line-interactive topology with automatic voltage regulation (AVR) which corrects minor power fluctuations without having to switch to battery power, sine wave output for seamless operation with sensitive equipment, surge protection, and battery backup.
The enhanced LCD Panel on the new cloud-enabled UPS systems has an LED brightness setting that automatically adjusts brightness of the panel based on surrounding light conditions. In addition, the LCD panel includes these features:
rotates 90 degrees for easier rackmount/tower configuration and tilts for a better viewing angle, especially in lower rack position
provides information on 47 different settings including UPS operational statistics, UPS setup and control management, and testing options
cycling display for a changing view of UPS status
audible alarms that alert IT administrators of power events or a change in UPS operation
About Cyber Power Systems (USA), Inc.
CyberPower designs and manufactures uninterruptible power supply systems, power distribution units, surge protectors, remote management hardware, power management software, mobile chargers and connectivity products. The company serves customers in enterprise, corporate, government, education, healthcare and small office/home office environments. CyberPower products are available through authorized distributors and sold by value-added resellers, system integrators, managed service providers, select retailers, and online resellers. For more information, visit:
https://www.cyberpowersystems.com/.
Contact:
Cyber Power Systems (USA), Inc.
Tim Madsen, 952-403-9500
tim.madsen@cyberpower.com