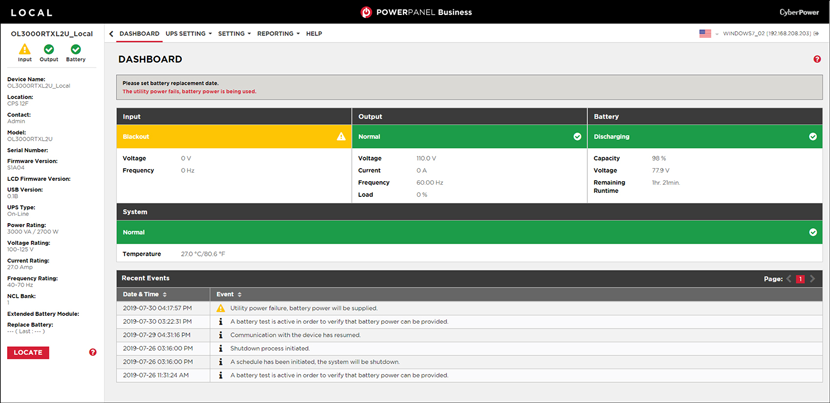 CyberPower has released an update to PowerPanel Business. Please read on for feature improvement details and a quick link to download the update.
PowerPanel® Business v4.8.1 Release Notes
Feature Improvements
Improved security. PowerPanel Business 4.8.1 will no longer use the Log4j logging utility.
Fixes
Local, Remote, and Management

Resolves a verification issue with SMTP servers and selection TLS and Auto in Connection
Fixes an issue experienced when setting high/low utility voltage
Note: previous release of PowerPanel® Business was v4.8.0
STOP! A FEW IMPORTANT NOTES BEFORE YOU START YOUR UPDATE.
Updating the software may cause the of loss all the notifications/shutdown/sensitivity settings.
Save your settings by taking pictures or screenshots of your configuration and settings.
We recommend uninstalling the previous version of the software before you install the next version.
Questions? 
Contact Tech Support Monday through Friday from 7am– 6pm CST.
Details and download links for specific operating systems available here: https://www.cyberpowersystems.com/products/software/power-panel-business/
Install Details
PowerPanel Business Local/ Remote for Windows

File Name: PPB_Windows_v4.8.1.exe
MD5: B00B8AA05AF8EF52A50A3C66B6B522B0
PowerPanel Business Management for Windows

File Name: PPB_Mgt_Windows_v4.8.1.exe
MD5: 69C5CDF47948937F564D15E9748B91A9
PowerPanel Business Local for Virtual Machine

File Name: PPB_Local_Virtual_Machine_v4.8.1.zip
MD5: 9146E3ADDBAAE066859D9085E931DA14
PowerPanel Business Remote for Virtual Machine

File Name: PPB_Remote_Virtual_Machine_v4.8.1.zip
MD5: 628E22E067590A727F2733841ECBA89D
PowerPanel Business Local/ Remote for Mac

File Name: PPB_Mac_v4.8.1.dmg
MD5: 4BFF01D5BE5BCCA81BDDC7343F32DE1D
PowerPanel Business Management for Mac

File Name: PPB_Mgt_Mac_v4.8.1.dmg
MD5: 8CE33CE21A6B4FA4DC792FC30175ECC4
PowerPanel Business Local/ Remote for Linux 32bit

File Name: PPB_Linux_32bit_v4.8.1.sh
MD5: CC54101CD274E8765889A1FA34068B5F
PowerPanel Business Local/ Remote for Linux 64bit

File Name: PPB_Linux_64bit_v4.8.1.sh
MD5: 35E679BDC9751C8E829AAD1C7FADD146
PowerPanel Business Management for Linux 32bit

File Name: PPB_Mgt_Linux_32bit_v4.8.1.sh
MD5: 0698BF1AA5F4C605C62F92A5D376DEF6
PowerPanel Business Management for Linux 64bit

File Name: PPB_Mgt_Linux_64bit_v4.8.1.sh
MD5: F29FEA0F78A5C62905896F0BE23D578C