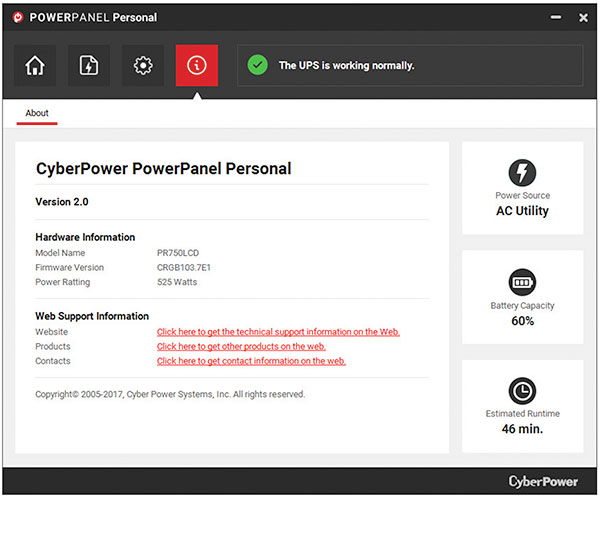 CyberPower has released an update to PowerPanel® Personal Windows and Mac.
PowerPanel® Personal 2.3.0 for Windows and Mac Release Notes
Feature Improvements
A software update option was added to the "About" page
Updated the PowerPanel Cloud connection function on the "Advanced" page
Upgraded to include up to 5000 event logs
Added an icon (trash can) for users to be able to manually delete log events
Includes support for macOS 11.0.1
Fixes
Resolves issues with macOS:

Fixes a PPP pop-up problem after starting the computer
Repairs a random and unexpected disconnection issue
Fixes an issue with application not showing power failure events.
Solves an issue with being automatically offline

Fixes the issue with a lag in response when the data on the event log is large
Resolves an issue for a scheduled on/off action
Note: previous release of PowerPanel® Personal for Windows was v2.2.2 and Mac was v2.2.2
STOP! A FEW IMPORTANT NOTES BEFORE YOU START YOUR UPDATE.
Updating the software may cause the of loss all the notifications/shutdown/sensitivity settings.
Save your settings by taking pictures or screenshots of your configuration and settings.
We recommend uninstalling the previous version of the software before you install the next version.
Questions? 
Contact Tech Support Monday through Friday from 7am– 6pm CST.
Details and download links for specific operating systems available here: https://www.cyberpowersystems.com/products/software/power-panel-personal/
Install Details
PowerPanel Personal for Windows

File Name: ppp_windows_2_3_2.exe
MD5: 91A440D9FB436389CECF6E00255022B2
PowerPanel Personal for macOS

File Name: ppp_macos_2_3_2.dmg
MD5: F12E21716D77D3318F97BBF0F74E8428