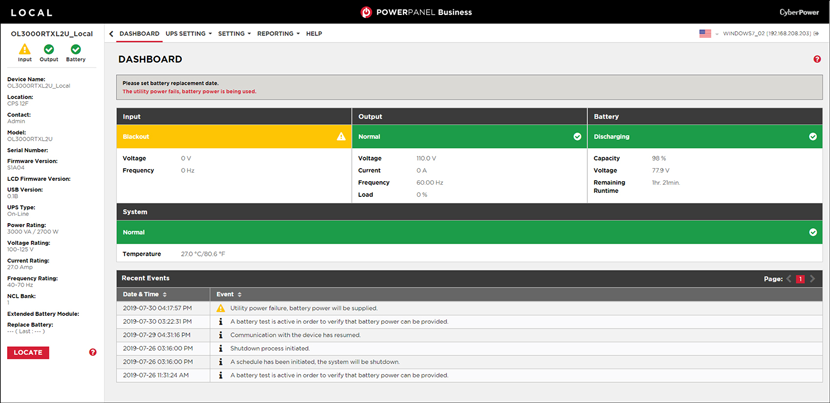 CyberPower has released an update to PowerPanel Business. Please read on for feature improvement details and a quick link to download the update.
PowerPanel® Business v4.3 Release Notes
New Features
Adding support for Apple MAC OS
Feature Improvements
Support for additional Linux options

Centos 7
Ubuntu 18.04.2
RHEL 8.0
Debian 10.1
Xen Server 7.2
Xen Server 8.0 (free version)
Note: previous release of PowerPanel® Business was v4.2
Questions? 
Contact Tech Support Monday through Friday from 7am– 6pm CST.
Details and download links for specific operating systems available here: https://www.cyberpowersystems.com/products/software/power-panel-business/
Install Details
PowerPanel Business for Linux 32bit

File Name: ppb430-linux-x86.sh
MD5: A2E807DCA1924FD4574F66A26F2F083F
PowerPanel Business Management for Linux 32bit

File Name: ppb430_mgt-linux-x86.sh
MD5: C133BFA28471AD495AB586E1FEDE419A
PowerPanel Business for Linux 64bit

File Name: ppb430-linux-x86_x64.sh
MD5: 714B79EF8D0286CEB55DB26BF5FB1029
PowerPanel Business Management for Linux 64bit

File Name: ppb430_mgt-linux-x86_x64.sh
MD5: 128582B9568D4B9C0D71C2A718B6592D
PowerPanel Business for Windows

File Name: ppb430-setup.exe
MD5: AE8BE1D9C310F8ABBAD3C35B2ECD346D
PowerPanel Business Management for Windows

File Name: ppb430_mgt-setup.exe
MD5: 23B54603C314B91ED4A56F409F8F3131
PowerPanel Business Local for Virtual Machines

File Name: va_ppb430-local.zip
MD5: B86D4A9BF050E099331B3EBC127E4852
PowerPanel Business Remote for Virtual Machine

File Name: va_ppb430-remote.zip
MD5: A268FC489D672D5B34D1FCC4D99A5F82
PowerPanel Business for MAC

File Name: ppb430-setup.dmg
MD5: B6997EC8DBB4FC66F3198435E7060ECB
PowerPanel Business Management for MAC

File Name: ppb430_mgt-setup.dmg
MD5: B6D7F7255AA252329DB01DB2375A0684