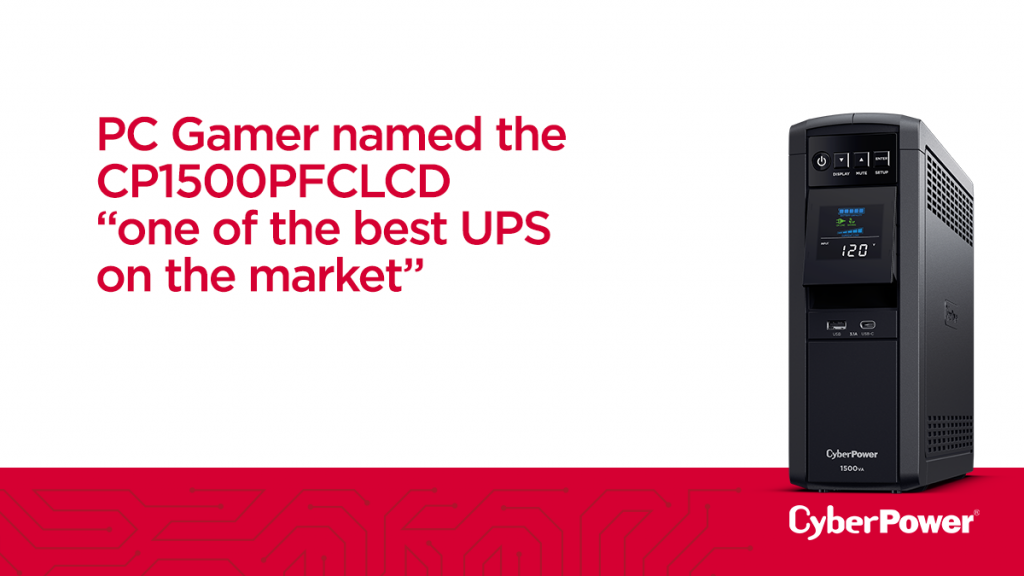 CyberPower Selected as Best UPS System for Gaming, Networks, & Accessories by PC Gamer
The Best UPS for Gaming PCs – CP1500PFCLCD
PC Gamer selected the CyberPower CP1500PFCLD PFC Sinewave UPS System as the best UPS for PC gaming in 2020. According to PC Gamer, "the CP1500PFCLCD 1500VA has enough juice to hand the majority of gaming machines on the market, even if you're running dual GPUs… and is also a great pick coming in at less than $220…"
PC Gamer also called the CP1500PFCLCD "one of the best UPS on the market" citing its battery capacity and sine wave output for powering sensitive electronics.
The Best UPS for Your Network and Accessories – EC650LCD
For home networks and accessories, PC Gamer also selected another CyberPower Battery Backup, the EC650LCD Ecologic UPS System. "For smaller accessories and network equipment, the CyberPower EC650LCD is the best pick for most people." PC Gamer recognized the EC650LCD for its runtime, small form factor, and ECO ports that can be managed and timed to turn on or off depending on the need.
About PC Gamer
PC Gamer magazine has been covering PC gaming for more than 20 years and publishes worldwide print editions, and around-the-clock news, features, esports coverage, hardware testing and game reviews on PCGamer.com.
Read the full review on PCGamer.com