Three Key Power Trends for 2019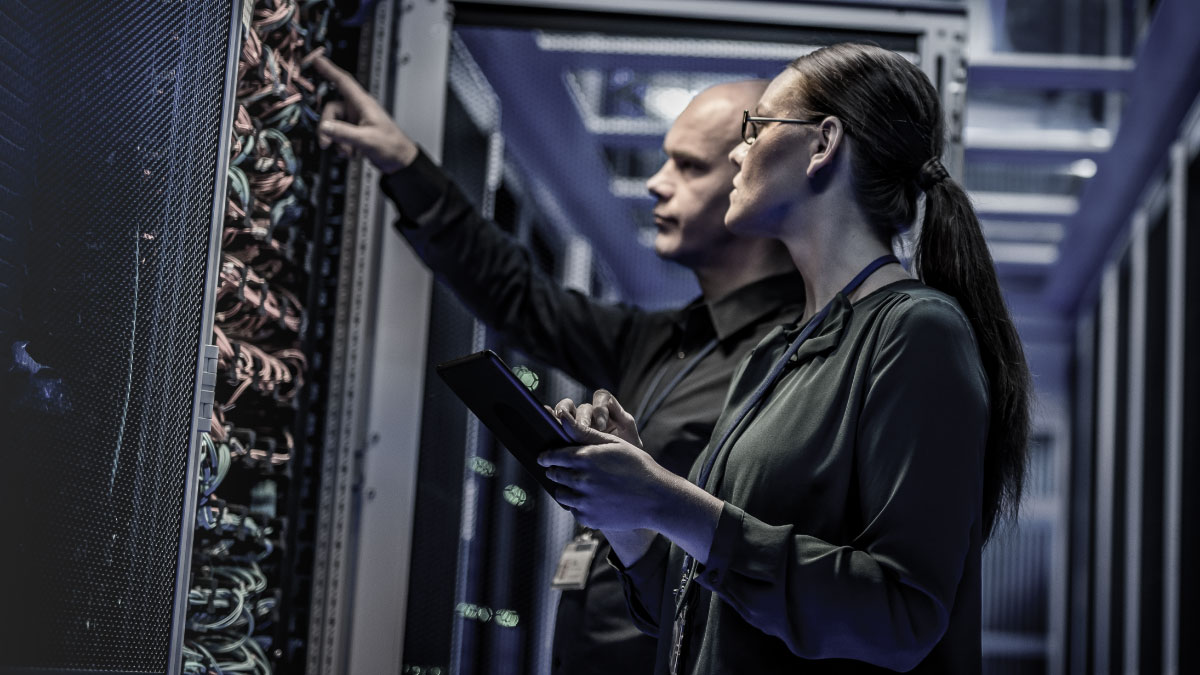 As data demands keep climbing, so does the demand for more power and the need for more efficiency and control. As a leader in innovative solutions, CyberPower is developing exciting new products that provide greater power management, higher efficiency, and use less space.
Trend #1: High-Density UPS Systems
Getting more power in less space will become critical as data centers and IT closets have space limitations. Designed for corporate server IT networks, high-density UPS systems have smaller footprints on the rack (in terms of U). Using less space means greater flexibility and more room to grow. At the same time, there is also a need for UPS systems to become more efficient to save energy and minimize operating costs.
CyberPower has responded with two new UPS high-density power solutions; the OL5KRTHD and OL6KRTHD. As illustrated below, you'll see that CyberPower's new high-density UPS systems take up significantly less space than similar competitive counterparts, saving rack space and improving overall space efficiency.
In addition, both are Energy Star Certified and offer GreenPower UPS™ ECO Mode. For users it means improved UPS efficiency up to 96%, significantly reducing electrical and cooling costs.
Trend #2: Increased use of Switched Metered-By-Outlet (MBO) PDUs
As the need for more efficiency increases so does the need for enhanced power control. SNMP networks with the aid of management software allow remote monitoring and control of UPS systems. With Switched Metered-By-Outlet (MBO) PDUs, IT professionals can also manage power usage and control issues at the outlet level. Individual outlet metering provides information on the amount of power being drawn from each outlet, each circuit and the PDU as a whole.
As shown in the graphic below, by measuring power down to the outlet level, operators can identify underutilized or overutilized capacity. MBO's are especially valuable in large data centers, where it's important to identify power issues quickly and limit downtime. In multi-tenant data centers (MTDC), the need for measuring power usage is even more important as monitoring by outlet is critical for revenue and expense allocation.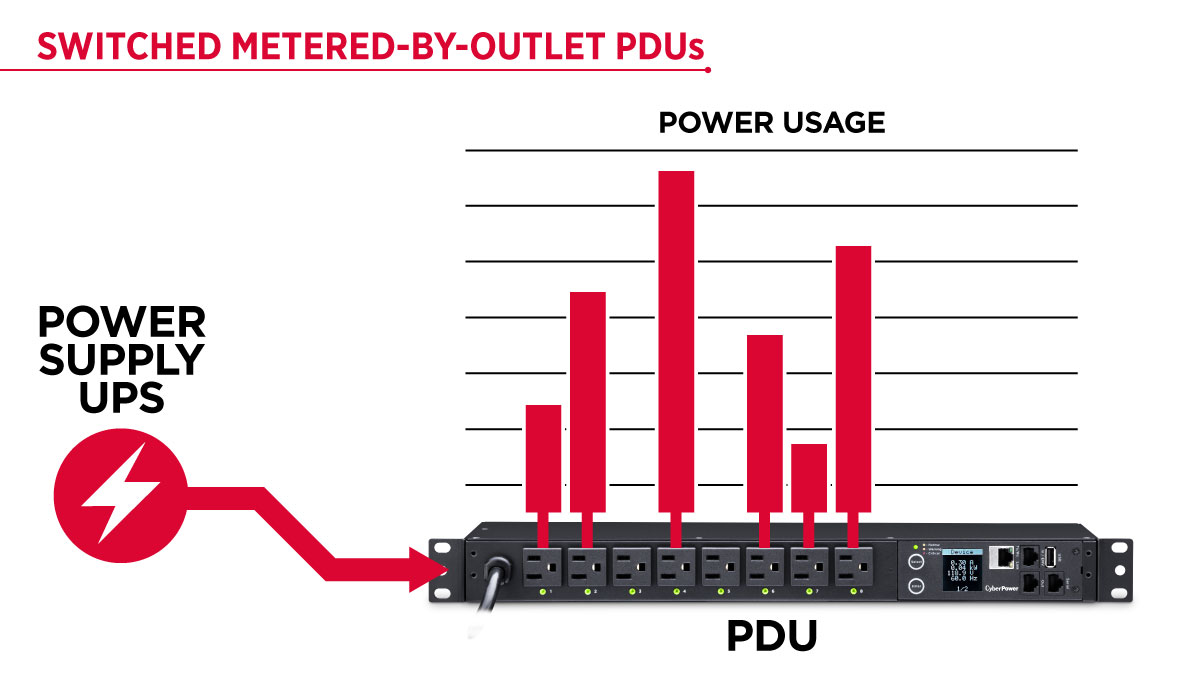 CyberPower's MBO PDU81001 is ideal for data centers and network closets as it provides outlet-level power monitoring in real-time, along with individual outlet control for remote reboots, load shedding, turn on/off outlets, disable unused ones, and to schedule power on/off sequencing.
Trend #3: Advancements in Control Capabilities via Better LCD Displays
With growing power centers, there is need for greater control and management. Advanced LCD displays with more user-friendly graphics that pop out along with more in-depth information about power vitals are required. LCD control functions need to provide easy to find viewable stats with more detailed analysis of functions such as UPS status, controls, set up, event logs and diagnostics.
To build a display to meet today's customer needs, CyberPower conducted a comprehensive research project with focus groups to gather insights and qualitative data on how to create a more usable and useful LCD panel. Ideas were tested to determine optimum graphics and usability.
Based on this research, CyberPower has developed the most advanced display solution available in an LCD panel that sets a new bar for control panel capabilities and performance:
This industry-changing, Full Color Matrix LCD Control Panel is now available and featured on our new OL5KRTHD and OL6KRTHD UPS models. In addition to the advanced configurations, the intuitive, color-coded alerts provide instant status at a glance. Plus, the screen orientation auto-rotates when placed into a tower configuration.
Look to the Leader
At CyberPower, power is our focus. It's what we do. To compete and grow we must lead the way by closely monitoring trends and developing innovative solutions. To learn more about our latest space-saving UPS products, go to High-Density UPS systems
Start your FREE power assessment and find the right UPS equipment for your business. Our Power Specialists can size the backup power solution you need for the amount of runtime you want.
Questions. Call our expert technical support team toll free at 877.297.6937 x1
Monday – Friday, 7am — 6pm CST.
We also offer online support with resources and tools right here on our website CyberPowerSystems.com.